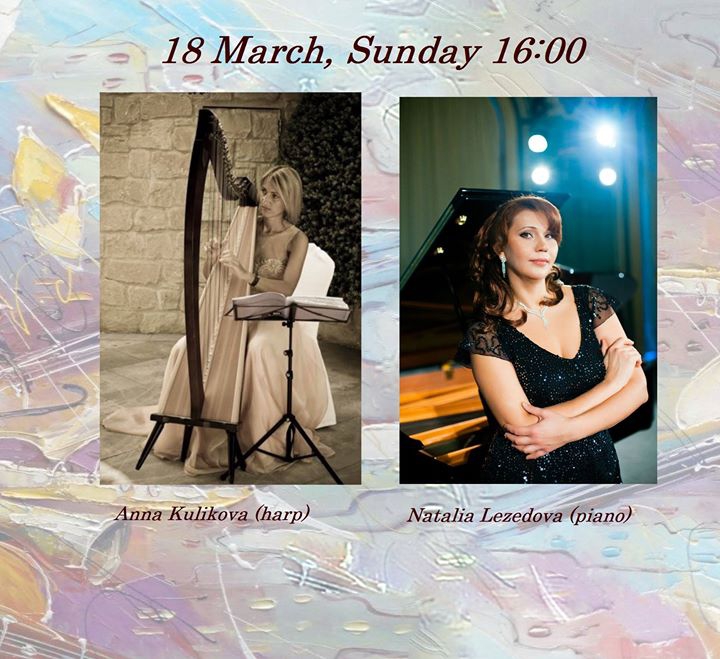 Event Details
The Children's Musical Society of Paphos presents the second concert from its Family Concerts series at Technopolis 20, entitled "Harp and Piano", on Sunday, 18th of March at 4pm.. The classical harpist Anna Kulikova will tell the harp story and will play compositions by Duran, Glazunov and Francisque. The classical pianist and laureate of five international competitions, Natalia Lezedova will also tell piano stories and will play compositions by Debussy, Chopin and Rachmaninov. The narrative and performance will be accompanied by a video presentation.

The Paphos Children's Musical Society family concerts give the opportunity to children to learn about the different families of the musical instruments of the symphony orchestra, the history of their origin and the peculiarities of each specific instrument.

The presentation and narration will be in Russian.

Entrance: 10 euros / 5 euros (children)
Reservations necessary at 70002420 (calls only)

A few words about the musicians
Anna Kulikova (harp) was born and studied in Moscow Russia, where she completed her Masters degree. She then played with the Moscow Symphony Orchestra and the Avanti Crossover Symphonic Orchestra. She has also worked as a teacher in music schools and colleges in Moscow and across Greece. At present Anna teaches harp at the Despina Constantinou School of Music Arts.

Natalia Lezedova (piano) is a graduate of the Musical Faculty of the State Pedagogical University of Russia, followed by postgraduate studies in Musical Art (2012). She has an advanced training course from the Rimsky Korsakov St Petersburg State Conservatory (2013). She is also a Laureate of five international competitions, among them: two first prizes as a performer-soloist (St Petersburg and Moscow 2012), winner of the Grand-Prix musical festival-competition "Severnaya Venetsia" (2012) and Laureate of the first prize as a concertmaster (Musical Competition Performing Arts St Petersburg 2013). A Russian by birth, she lives in Cyprus and has performed many times in local recitals. In recent years she has arranged many concerts in Cyprus, most of them for charity, and she has collaborated with musicians from Russia, Cyprus, Italy, French, Germany and UK.