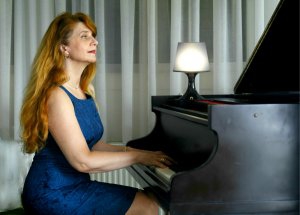 Event Details
The pianist Galina Dimova and the violinist Andreas Nicolaou invite you to the recital entitled 'What a wonderful world', that will take place at Technopolis 20 in Paphos, on Friday, 18th of May 2018, at 8pm.
The recital will include works by Johann Sebastian Bach, Ludwig van Beethoven, Johannes Brahms, Solon Michaelides, Antonin Dvořák, Pablo de Sarasate, G. D. Weiss and B. Thiele.
Entrance: 10 euro
Reservations are necessary at 70002420 (calls only).
A few words about the musicians
Galina Dimova was born in Chirpan, Bulgaria. She graduated from The Academy of Music, Dance and Fine Arts in Plovdiv with distinction, obtaining an M.A. in Music Education and Piano Pedagogy. In addition, Galina has a PhD on the piano compositions of the Cypriot pianist and composer Nicolas Economou. She has several international publications and collaborates with video artist Yiannos Economou as a composer and performer. Galina plays extensively both as a soloist and as an accompanist and has an unusually wide repertoire, ranging from Baroque to contemporary music. Galina is the Head of the Music Department at the International School of Paphos and teaches piano at the Paphos Music Lyceum.
Andreas Nicolaou is one of the most talented Cypriot musicians. He graduated from the Conservatory and Music Academy of Prague with distinction, acquiring an MgA (Master of Fine Arts) title. He has given many concerts and broadcasts in Cyprus as well as in the Czech Republic, Germany, UK, Israel, France and Greece.