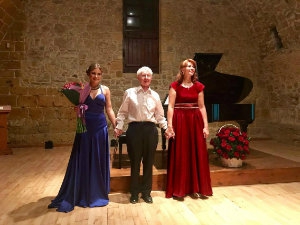 Event Details
A unique and rare pianistic experience awaits those who attend the Technopolis 20 Cultural Centre in Paphos on Tuesday, 13th February at 8 p.m. Where else but at the innovative Technopolis centre could you hear world première public performances of no less than 19 piano works at a single concert? Most of the works are in the popular romantic classical style. This event is not to be missed.
The two well-known classical pianists Tatiana Stupak and Natalia Lezedova have decided to play a significant number of the works of Limassol-based composer David Pentecost. Some of the composer's compositions have been played since May last year at concerts in Limassol, Paphos and Nicosia, and were very enthusiastically received by the audiences.
David Pentecost started playing the piano at age five, but did not turn his hand to composing until more than half a century later. His music has been written in the last 20 years, but no one would regard it as modern music. None of his music is in the modern minimalist style. He dislikes atonal music, and prefers to write mostly in styles similar to those of the 19th century romantic composers, and of earlier composers such as Haydn and Bach. For example, he has written five nocturnes; if you like Chopin's nocturnes you are likely to enjoy hearing Pentecost's as well. This concert will consist of a variety of types of music, but almost all the compositions have one thing in common: they are tuneful; and most of them have pleasant, even beautiful melodies.
Tatiana Stupak started learning the piano at age five, studying at the Special School of the Rimsky-Korsakov State Conservatory in St. Petersburg, and after that, for a further five years continuing at the Conservatory itself. She won a Bach international competition and an organ international competition in Russia. She has performed in Austria and Germany as well as in Russia. Tatiana is now based in Cyprus, where she is well known, having played many times in the last few years, in Limassol at the Pattichion Municipal Theatre, in Paphos and in Nicosia, both as a solo pianist and accompanying other musicians. She arranges charity concerts for children and for the church, and brings famous musicians from Russia, for example from the Bolshoi Theatre. She opened her music tuition centre in 2017 for piano and other instruments, and for teaching music subjects; the teachers are prize-winning professionals.
Natalia Lezedova is a graduate of the Musical Faculty of the State Pedagogical University of Russia, and she also has postgraduate studies in 'Musical Art' (2012). She attended an advanced training course from the Rimsky-Korsakov St. Petersburg State Conservatory (2013). She is also a laureate of five international competitions, among them: two first prizes as a performer-soloist (Saint-Petersburg and Moscow 2012), winner of the Grand-Prix music festival competition "Severnaya Venetsia" (2012) and first prize laureate as a concertmaster (Music Competition in Performing Arts in Saint-Petersburg 2013). In recent years she has arranged many concerts in Cyprus, most of them for charity, and she has collaborated with musicians from Russia, Cyprus, Italy, France, Germany and UK.
Music Programme:
Op.1 Lullaby-Mazurka, Op.2 Mélodie Triste et en Colère, Op.11 Prelude, Op.4 Fantasia, Op.7 Waltz, Op.8 Song without Words, Op.6 Reverie, Op.9 Prelude: Bach BWV855/Siloti/Pentecost, Op.10 A Chloris: Reynaldo Hahn, arranged for piano solo, Op.14 Zueignung: R. Strauss, arranged for piano solo, Op.12 Etude, Op.13 Nocturne, Op.16 Theme & Variations, Op.17 Etude, Op.18 Nocturne, Op.19 Nocturne, Op.21 Prelude, Op.22 Fantasia, Op.23 Prelude, Op.24 Nocturne, Op.25 Nocturne.