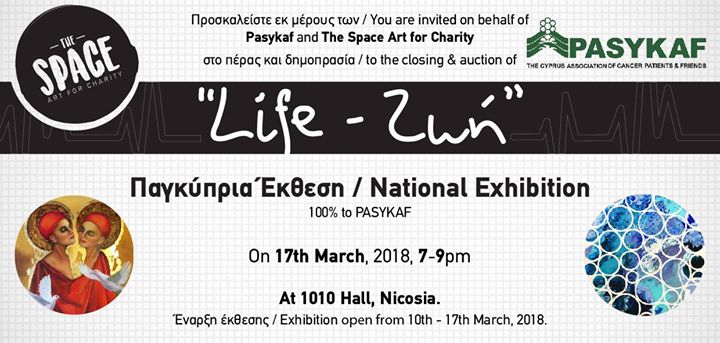 Event Details
'THE SPACE ART FOR CHARITY 2018'
Παγκύπρια Φιλανθρωπική Έκθεση Έργων Τέχνης 2018
Cyprus National Art Exhibition for Pasykaf Cyprus
Closing Ceremony to take place at 1010Hall in Nicosia
Saturday 17th March | 7pm - 9pm
10th – 17th March Open Daily 1-7pm

All are welcome to attend the Nicosia Closing Ceremony & Auction on the last evening of this 4-week national art exhibition. This is the last event of The Space Art for Charity 2018 and some exciting entertainment is to be confirmed for the evening celebrations. An auction will also be held for all the remaining artworks to be sold – don't miss this golden opportunity to purchase original artworks at sensible pricing, and all for a good cause.

'We would like to express our sincere gratitude for all who support The Space Art National Exhibition in 2018 and appreciate all donating artists for using their talent to raise money for our Charity.'
Nicolas Philippou, Chief Executive Officer of PASYKAF

Leading Cypriot & European Artists
The impressive list of artists includes many leading artists such as Philippos Yiapanis, Andros Efstathiou, Andreas Makriou, Kyriacos Lyras, Louis Stavrou Yiannapis, Artiste Andre, Penelope Constantinou, Michael Gorman, George Kotsonis, Katja Tonja, Julie Hart, Anna Privaloff, Anna Roman, Maria Ignatiou Shiakalli, Sharen Taylor, Despoina Christou, Alexander Marescu and Keith Walker. Many other artists have also made donations, some of whom do not sell their work to the public but have made an exception for such a good cause. Some of the artworks are being created by artists especially for the exhibition to fit this year's chosen theme – "Life".

"Sadly, two in three people will be affected by cancer in their lifetime and PASYKAF exists to serve all nationalities, free of charge, at all stages of their illness" organiser Sarah Coyne said. The Space Art for Charity is a totally non-profit initiative which effectively combines the promotion of fine artists with significant fundraising on behalf of cancer charities in Cyprus. Everyone involved in the organisation and promotion of this event does so in a voluntary capacity.

For more information on this event please contact Sarah Coyne on 99 254 491 or send an email to thespaceartforcharity@gmail.com.