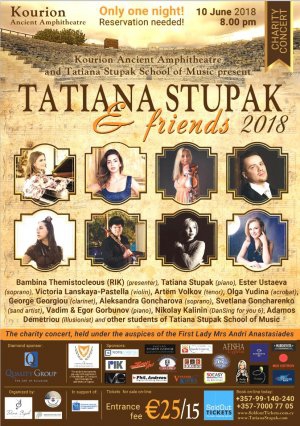 Event Details
Net proceeds will be given to the Pancyprian Association for Children with Cancer and Related Diseases: "A Dream, one Wish".
This charity concert is held under the auspices of The First Lady, Mrs Andri Anastasiades
In recent years, Tatiana Stupak, founder of the Tatiana Stupak School of Music, and a laureate of international classical piano and organ competitions, has held a special charity concert to celebrate her birthday. Last year, she hired Limassol's Pattichion Municipal Theatre, for an amazing musical, artistic and acrobatic event, and commentators were wondering how she could match this in 2018.
Well now we know. She has arranged to hire the spectacular ancient amphitheatre at Kourion, with the co-operation of the local authority of Episkopi.
The presenter for the evening will be Bambina Themistocleous from RIK.
This year, the concert will have an even greater variety of types of entertainment:-
"Rhapsody in Blue" by George Gershwin
Piano jazz
Six popular classical music operatic arias
Dancing
Vivaldi's "Storm" from The Four Seasons
A sand art show
Two Chopin piano solos
Acrobatics
"Summertime" from Porgy & Bess
A Magic and Illusion show
"Méditation" from Thaïs
Two well-known Russian songs
The instrumentalists apart from pianist Tatiana Stupak will be the Russian violinist Victoria Lanskaya-Pastella, and Cypriot clarinettist George Georgiou. The singers will be the classical soprano Ester Ustaeva from St Petersburg, Aleksandra Goncharova from the Ukraine, and the tenor Artëm Volkov, who will be flying specially for this event from Moscow. The sand art show accompanied by live music, will be performed by the Ukrainian artist Svetlana Goncharenko, whose creation will be projected to a screen. Olga Yudina will perform acrobatics accompanied by music. The dancer will be Nikolay Kalinin, from the Cypriot TV ONE charity show DanSing For You 6. The illusionist will be Adamos Demetriou, who took part in 'Greece Got Talent in 2010'. Students taking part will be Egor Gorbunov, Vadim Gorbunov, Daniil Staroselskiy and others.
The music to be played is nearly all very well known; the items included in the provisional programme are:
Instrumental: Antonio Vivaldi's virtuoso work "Storm", for violin and piano; Adalgiso Ferraris' "Black Eyes" a very popular Russian song, played on piano; a jazz piano solo by Brian Bonsor; Jules Massenet's "Méditation" for violin and piano; a Frédéric Chopin Etude and also his Ballade No.1; George Gershwin's "Rhapsody in Blue" arranged for piano and violin: and Michele Mangani's beautiful "Pagine d'Album", for clarinet and piano.
Vocal with instrumental accompaniment: Antonín Dvořák's "Song to the Moon"; Giuseppe Verdi's "La donna è mobile"; Giacomo Puccini's "O mio babbino caro"; "Santa Lucia"; Nino Rota's "Parla piu piano"; George Gershwin's "Summertime"; and Igor Matvienko's Russian song "Zhit'".
This will be a unique event, not to be missed.
Net proceeds will be given to the Pancyprian Association for Children with Cancer and Related Diseases: "A Dream, one Wish".
Please come along and support this worthy charity.
Venue: Kourion Ancient Amphitheatre
Date: Sunday, 10th June 2018, 8 p.m.
Tickets: €25, (€15 aged up to 12, and pensioners) via www.SoldoutTickets.com.cy or at the Kourion Box Office (cash only) on 10th June from 7 p.m.
About the concert organiser
TATIANA STUPAK started learning the piano at age five, studying at the Special School of the Rimsky-Korsakov State Conservatory in St. Petersburg, and after that, for a further five years, continuing at the Conservatory itself. The winner of international music competitions including the Leipzig Bach competition.
She has performed in Austria and Germany as well as in Russia. Tatiana is now based in Cyprus, where she is well known, having played many times in the last few years, in Limassol, in Paphos and in Nicosia, both as a solo pianist and accompanying other musicians. She arranges charity concerts for children and for the church, and brings famous musicians from Russia, for example from the Bolshoi Theatre. She opened the Tatiana Stupak School of Music in 2018, for piano and other instruments, and for teaching music subjects; the teachers are prize-winning professionals.