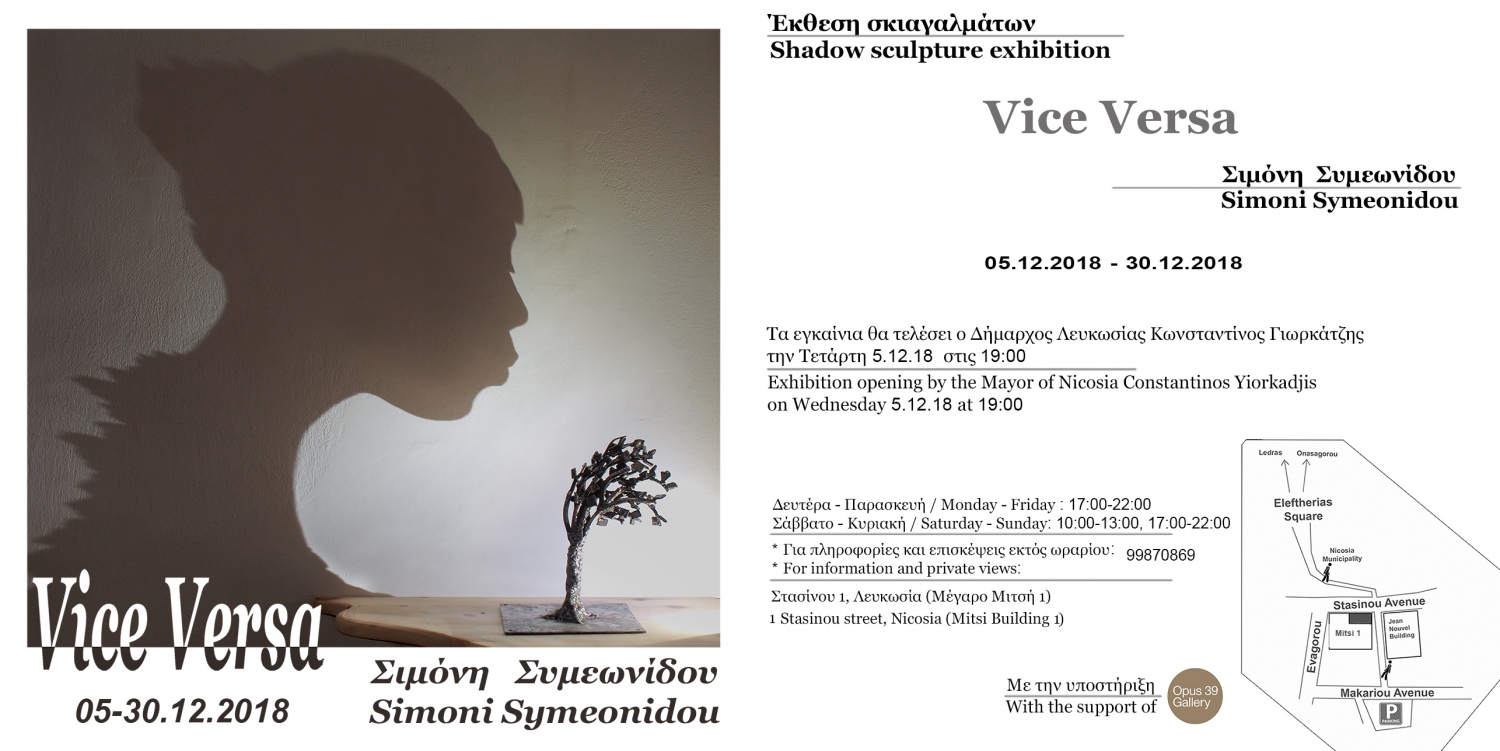 Shadow Sculpture Exhibition - Vice Versa
Simoni Symeonidou
Wed Dec 5th 2018 to Sun Dec 30th 2018 at 19:00 until 22:00
---
Cyprus
,

Stasinou Avenue 1

,

Mitsi Building 1

,

Nicosia

Cyprus
https://www.myguidecyprus.com/events/shadow-sculpture-exhibition-vice-versa
VISIT WEBSITE
Event Details
Shadow sculpture exhibition "Vice Versa" by Simoni Symeonidou

In her fourth solo exhibition, Simoni Symeonidou presents shadow sculptures, with her ideas revolving around the human as an entity and their shadow as their substance. Through existential perturbations and exploration of emotions, human relations and inner search, the artist does not set questions, nor does she suggest the answers. She rather shares the realisation how similar and dissimilar we all are.

"Because we are humans. Round, curved humans. And that means that we have infinite sides."

Shadow sculpture creation is an innovative technique in the Cypriot art scene, with Symeonidou being the only Cypriot artist applying it. She is on the one hand identified by it and on the other hand she keeps developing it. The ones familiar with her work, have seen so far the abstract forms of the sculptures being lit and casting figurative shadows. This time, Symeonidou innovates again, by bringing the figure not only on the intangible of the shadow, but also on the tangible forms of her sculptures. In this exhibition, between other works, you will see a witch having the shadow of a fairy, and trees and flowers with human shaped shadows.

The title "Vice Versa" is a universally known Latin phrase which indicates that a statement is equally true when its subject and object are switched. With this title the artist wants to declare the truth within the work on both its sides: the sculpture and the shadow.

Once again the artist avoids the usual exhibition spaces and chooses the space that will host her artworks through the same concept in which they are created: the second chance and the alternative vision. A restaurant in the heart of Nicosia, which was closed for many years, changes identity and from the 5th until the 30th of December 2018 takes the role of an exhibition space.

The Mayor of Nicosia Mr Constantinos Yiorkadjis will open the exhibition on the 5th of December 2018 at 19:00.

The space is on the ground floor of Mitsi Building, 1 Stasinou Avenue, opposite the pedestrian crossing of Eleftherias square.

Exhibition duration: 5-30.12.18. Opening hours: Monday-Friday: 17:00-22:00/Saturday-Sunday: 10:00-13:00 and 17:00-22:00. For information and private views please contact 99870869. Artist website: www.simonisymeonidou.com

The exhibition "Vice Versa" occurs four years after Symeonidou's previous solo exhibition "MOMENTA". During this time she has participated in group exhibitions in Cyprus and abroad. At the moment and until the 30th of November, her work "Naked shadow" is shown in Larnaca Municipal Gallery as part of Larnaca Biennale 2018.

The exhibition is being held with the support of Opus39 gallery.