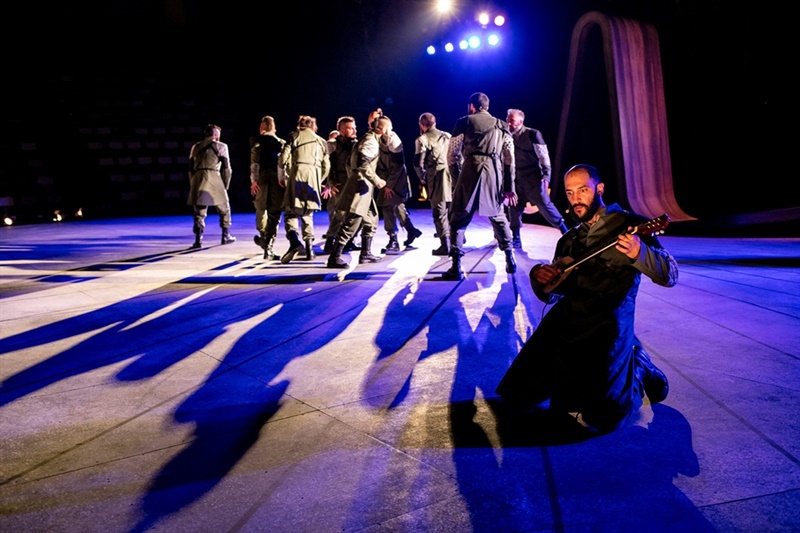 Event Details
Greek text follows
30, 31 May & 01 June - Makarios III Amphitheatre, Nicosia
06 & 07 June - Curium Ancient Theatre, Limassol
THOC presents the ancient Greek play 'The Persians' by Aeschylus, directed by Aris Biniaris, with the actors Kariofilia Karabeti, Nikos Psaras, Antonis Myriagos and Charis Charalambous.
The Persians is an ancient Greek tragedy written during the Classical period of Ancient Greece by the Greek tragedian Aeschylus. It is the second and only surviving part of a now otherwise lost trilogy that won the first prize at the dramatic competitions in Athens' City Dionysia festival in 472 BCE, with Pericles serving as choregos.
In The Persians, Xerxes invites the gods' enmity for his hubristic expedition against Greece in 480/79 BCE; the focus of the drama is the defeat of Xerxes' navy at Salamis. Given Aeschylus' propensity for writing connected trilogies, the theme of divine retribution may connect the three. Aeschylus himself had fought the Persians at Marathon (490 BC). He may even have fought at Salamis, just eight years before the play was performed.
The play is in Greek.
Email: info@thoc.org.cy
Phone: 77772717
--------------------------------------------------------------------------------------------------------------------
ΠΕΡΣΕΣ - 2ος χρόνος παραστάσεων
του Αισχύλου
Η μεγάλη περσινή καλοκαιρινή επιτυχία του ΘΟΚ, που εντυπωσίασε κοινό και κριτική, επαναλαμβάνεται για περιορισμένο αριθμό παραστάσεων στην Κύπρο και στη συνέχεια πραγματοποιεί σημαντική περιοδεία στην Ελλάδα.
Οι Πέρσες, το παλαιότερο από τα σωζόμενα έργα του αρχαίου ελληνικού δράματος, το μοναδικό που βασίζεται σε ιστορικά γεγονότα, καταγράφει την ήττα της περσικής αλαζονείας και το θρίαμβο του ελληνικού πνεύματος, υιοθετώντας μια ξεχωριστή αφηγηματική φόρμα. Το έργο παρουσιάζεται από τον ΘΟΚ σε σκηνοθεσία του Άρη Μπινιάρη -ενός νέου σκηνοθέτη που έχει ξεχωρίσει για τις εκρηκτικές παραστάσεις του- με τη συμμετοχή μιας δυναμικής ομάδας καταξιωμένων και νεότερων ηθοποιών, μεταξύ των οποίων η Καρυοφυλλιά Καραμπέτη, ο Νίκος Ψαρράς, ο Αντώνης Μυριαγκός και ο Χάρης Χαραλάμπους.
Σύμφωνα με τον σκηνοθέτη, «η παράσταση αποτελεί ένα ταυτόχρονα θεατρικό και μουσικό γεγονός και προτείνει μια ζωντανή σύνθεση ποιητικού λόγου, μουσικής και θεατρικής δράσης. Απελευθερώνει την ουσία του αισχυλικού έργου και οδηγεί τον θεατή στην κατανόηση του πανανθρώπινου χαρακτήρα του αρχαίου δράματος. Οι ηθοποιοί προσεγγίζουν τα νοήματα, τους ρυθμούς και τους ήχους του ποιητικού κειμένου, με τη μουσικότητα ως όχημα για την αναπαράσταση και τη μεταμόρφωση. Όλοι οι βασικοί χαρακτήρες, όπως και ο Χορός, ερμηνεύονται αποκαλύπτοντας τη μουσική υφή του έργου. Χρησιμοποιώντας μια τέτοια απλή σύνθεση η παράσταση εκδηλώνεται μέσα από βασικά επίπεδα- δράση, λέξη, τραγούδισμα, χορός- κατακτώντας μια απλότητα, επαρκή για να αποκαλύψει τις αδιάκοπες δονήσεις του αρχαίου ελληνικού δράματος και την απήχησή του στο σημερινό κόσμο».
Ο Άρης Μπινιάρης και οι συνεργάτες του προσεγγίζουν τον τραγικό λόγο του Αισχύλου, με μια παράσταση συνόλου που καθηλώνει τους θεατές και σύμφωνα με το Φεστιβάλ Αθηνών «διεκδικεί μια θέση στην ιστορία του σύγχρονου Ελληνικού Θεάτρου αναδεικνύοντας τον Άρη Μπινιάρη σαν ένα από τους πιο πολλά υποσχόμενους σκηνοθέτες της νέας γενιάς».