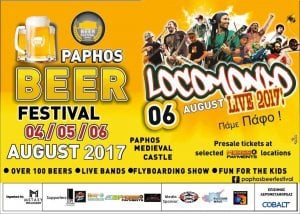 Event Details
The Paphos Beer Festival will be taking place at the Medieval Castle of Kato Paphos from the 4th until the 6th of August 2017. Enjoy a wide variety of beers from Cyprus and around the world. Come and enjoy not only your favourite beer but also live entertainment. Different kinds of music performed by bands, dancing assembles and many many more.
Featured event the big concert with the Greek band Locomondo on Sunday, 6th of August.
Ticket Prices:
4th and 5th of August presale 7€, at the gate 10€
6th of August Locomondo concert, 17€ presale and 20€ on the gate.
With the ticket you are allowed 1 Free Pint of the Beer of your choice & a Paphos Beer Festival collectible Plastic Cap.
If you register your ticket at www.mstasy.com you will automatically enter the competition to winning various prizes like t-shirts, baseball cups etc.
Presale tickets are available in selected Mobee Payments Locations.