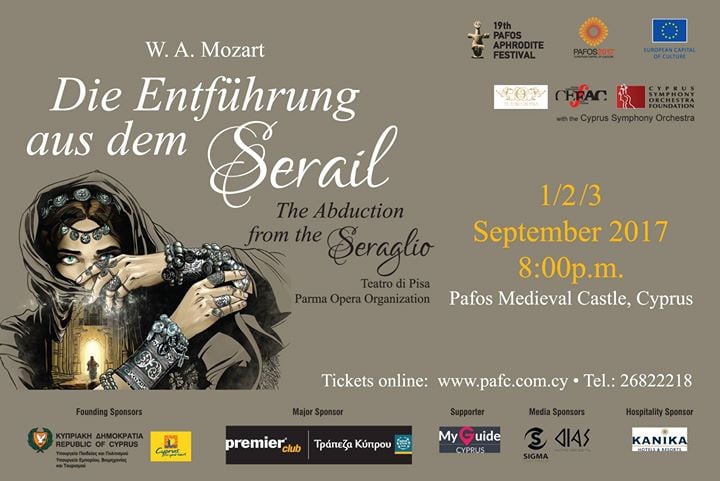 Pafos Aphrodite Festival 2017 - Die Entführung aus dem Serail
(The abduction from the Seraglio)
Fri Sep 1st 2017 to Mon Sep 4th 2017 at 20:00
---
Cyprus
,

Pafos Medieval Castle

,

Paphos

Cyprus
https://www.myguidecyprus.com/events/pafos-aphrodite-festival-2017
VISIT WEBSITE
Event Details
The 19 th Pafos Aphrodite Festival presents W.A. Mozart's popular and romantic opera
Die Entführung aus dem Serail (The abduction from the Seraglio)
On 1, 2 and 3 September 2017 at the Pafos Medieval Castle
The 19 th edition of Pafos Aphrodite Festival is included in the Programme of Events of Pafos 2017 European Capital of Culture and opens its curtain with W.A. Mozart's masterpiece Die Entführung aus dem Serail (The Abduction from the Seraglio) on September 1, 2 and 3 at the square of the Pafos Medieval Castle in co-production with the Italian lyric organization Parma Opera Organization C.E.F.A.C. and the Theatre of Pisa with the participation of the Cyprus Symphony Orchestra.
The Abduction from the Seraglio is in the genre of «singspiel», a comic opera in the German language combining music with spoken dialogue. This genre influenced the subsequent development of German opera which until that time was overshadowed in the German-speaking part of Europe by the Italian opera.
The opera is in three acts with a libretto, based on the theatrical comedy "Belmont and Constanze", by Christoph Friedrich Bretzner and adaptations by Gottlieb Stephanie. It premiered at the Burgtheater of Vienna on July 16, 1782 and was a huge success establishing Mozart's reputation with the public.
Mozart created and completed this opera in one of the happiest periods of his life, a fact which is embedded in the opera itself making it one of the most popular and endearing operas of the great composer.
Die Entführung aus dem Serail (The Abduction from the Seraglio): The Plot
The plot takes place in the 16 th century at the house of the Turkish Pasha Selim where Konstanze, the fiancé of the Spanish nobleman Belmonte, is held captive along with her servants Blonde and Pedrillo. They were captured by pirates and sold into slavery to the Pasha in Turkey. The Pasha falls passionately in love with the beautiful Konstanze.
Belmonte, who has managed to escape captivity, arrives at the palace to rescue his fiancé and the others and introduces himself to the Pasha as an Italian architect.
For more information contact Pafos Aphrodite Festival Cyprus in Pafos at +357 26 822 218 or visit
www.pafc.com.cy
Ticket prices: €25, €40, €50 and €70.
There will be a simultaneous translation into Greek and English via subtitles.