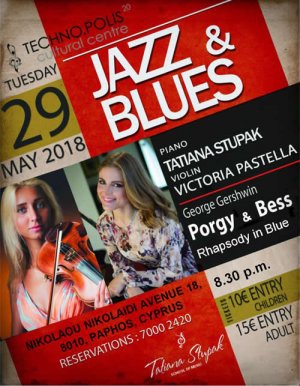 Event Details
The recital 'Music of George Gershwin' will take place at Technopolis 20 in Paphos, on Tuesday, the 29th of May 2018, at 8:30pm. Tatiana Stupak (piano) and Victoria Lanskaya - Pastella (violin) will perform music from the opera 'Porgy and Bess' and the musical composition 'Rhapsody in Blue'.
Entrance: 15 euros
Reservations are necessary at 70002420 (calls only).
A few words about the musicians
Tatiana Stupak started learning the piano at age five, studying at the Special School of the Rimsky-Korsakov State Conservatory in St. Petersburg, and after that, for a further five years continuing at the Conservatory itself. She won a Bach international competition and an organ international competition in Russia. She has performed in Austria and Germany as well as in Russia. Tatiana is now based in Cyprus, where she is well known, having played many times in the last few years, in Limassol, in Paphos and in Nicosia, both as a solo pianist and accompanying other musicians. She arranges charity concerts for children and for the church, and brings famous musicians from Russia, for example from the Bolshoi Theatre. She opened her music tuition centre in 2017 for piano and other instruments, and for teaching music subjects; the teachers are prize-winning professionals.
Victoria Lanskaya Pastellas graduated from the Moscow State University as a classical and jazz violinist. She has travelled with orchestras to many countries, including the Far East. She took part in Sarah Brightman's and Sting's concerts in Moscow. She was also with the Rodion Gazmanov band (a Russian rock star) for several years. She has performed solo, at concerts and at studio recordings for many famous Russian singers. Before moving to Cyprus in September 2017, she played at several major Moscow venues, including the Kremlin. She has played solo concerts for Russia's and friendly countries' presidents and ministers. Victoria can play music with her own improvisation, which depends on the event, the atmosphere, and the mood of the audience. Her repertoire exceeds fifteen hours.