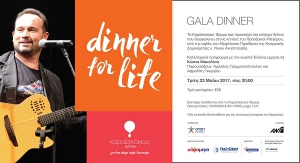 Event Details
Charity dinner at the Presidential Palace under the auspices of His Excellency the President Mr. Nicos Anastasiades.
An event organized for the financial support of the Karaiskakio foundation, since all net proceeds will go to the foundation.
Musical program with the popular Greek singer Kostas Makedonas.
Admission: 50 euros
Information: Karaiskakio Foundation 22210858 or info@karaiskakio.org.cy (Nektaria Papadopoulou).