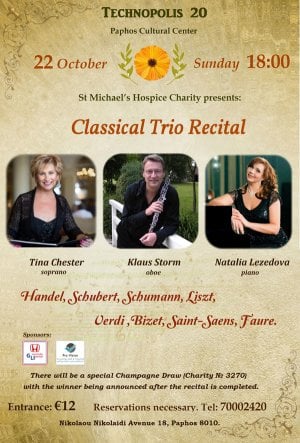 Event Details
Technopolis 20 will open its doors to a charity event on Sunday 22nd of October 2017 at 18:00, a classical trio recital with the following artists participating: Klaus Storm (oboe), Natalia Lezedova (piano) and Tina Chester (soprano).
Additionally, the artist Duncan Lamb has created a unique artwork of Klaus Storm to commemorate this event in aid of St Michael's Hospice Charity. The work will be on display and will be for sale on the evening.
Entrance: 12 euro
Reservations are necessary at 70002420 (phone call, not sms)
A few words about the artists:
Klaus Storm (oboe) is an internationally-acclaimed musician. Klaus started his musical studies at the age of six with piano; later he graduated in oboe in Münster, Berlin and Würzburg. A multi-faceted musician, he has worked with many international orchestras including Deutsche Kammerakademie Neuss, Kammerphilharmonie Amadé, Sinfonietta Hungarica and the Cyprus Symphony Orchestra and chamber ensembles, including Ensemble Viento, Kourion Barok Solisten and Oboe Stringendi Quartet. Storm is a much requested soloist in Germany and abroad. He has also taken part in various studio productions. The Kourion-Orchester Munster was founded in 1998 and is a symphonic orchestra with a full engagements diary, organised and managed by Klaus Storm. In 2008/2009 he produced, with himself on keyboard, an extensive number of Oboe and Piano Play Alongs, which he uses with students and in lighter evening entertainment. A German by birth, Klaus lives part-time in Paphos and the remaining time in Germany, where he plays extensively with various well-known ensembles and orchestras during the periods of Easter through May and November to Christmas.
Natalia Lezedova (piano) is a graduate of the Musical Faculty of the State Pedagogical University of Russia, followed by postgraduate studies in Musical Art (2012). She has an advanced training course from the Rimsky Korsakov St Petersburg State Conservatory (2013). She is also a Laureate of five international competitions, among them: two first prizes as a performer-soloist (St Petersburg and Moscow 2012), winner of the Grand-Prix musical festival-competition "Severnaya Venetsia" (2012) and Laureate of the first prize as a concertmaster (Musical Competition Performing Arts St Petersburg 2013). A Russian by birth, she lives in Cyprus and has performed many times in local recitals.
Tina Chester (soprano) studied music in college and took vocal training privately to Diploma level. Although she had sung and performed on stage for much of her life, it was in her mid 30s when Tina's classical voice was discovered. She describes her whole life as being one big mix of music and dance; everything from singing in a pop band, folk music nights, serious mixed choirs, ladies choruses and many solo successes at music festival competitions. Also, she has enjoyed leading roles in Amateur Operatics and Musical Theatre and has performed with orchestras and small ensembles, Choral works with solos or duets and she has studied and taught vocal technique. Tina performed a classical concert with Natalia Lezedova and Doros Zesimos at Technopolis 20 in 2015 and was a soloist in Evagora of Cyprus, a huge production written by Polis Charalambous, at Tala Amphitheatre in 2016.