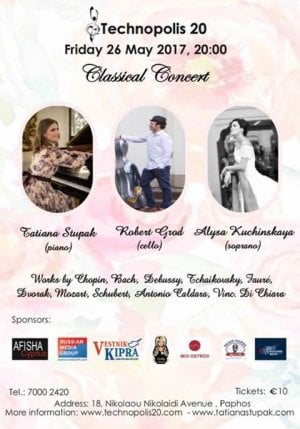 Event Details
The classical pianist Tatiana Stupak returns to Technopolis 20 in Paphos on Friday 26th of May, at 8pm, this time with the cellist Robert Grod and the soprano Alysa Kuchinskaya.
The programme will include works by Chopin, Bach, Debussy, Tchaikovsky, Fauré, Dvorak, Mozart, Schubert, Antonio Caldara and Vincenzo Di Chiara.
Entrance: 10 euro
Reservations necessary at 70002420.
A few words about the musicians
Tatiana Stupak started learning the piano at age five, and later studied at the Rimsky-Korsakov State Conservatory in St. Petersburg. She won a Bach international competition and an organ international competition in Russia. She has performed in Austria and Germany as well as in Russia. Tatiana is now based in Cyprus, where she is well known, having played many times in the last few years, both as a solo pianist and as accompanist for other musicians.
Robert Grod was born in 1991 in Lithuania. He studied in Vilnius at the Balys Dvarionas music school in the class of J. Veiverienė. He is a laureate prize winner of the Dvarionas and Urba music competitions in Lithuania. In 2010 Robert began his studies at the Moscow State Conservatory, under the tutorship of Natalia Shakhovskaya. In 2012 he won first prize in the Kozolupov competition in Moscow, and in 2016 he graduated from the conservatory with honours. Since then, he has been working in Nicosia for Cyprus Young String Soloists, which is a programme of the Cyprus Ministry of Education and Culture, aiming at identifying children aged 3-18 who are very talented in music, and at providing them with instrument instruction at the highest possible level.
Alysa Kuchinskaya was born in Lithuania, where she showed a great passion for music from early childhood. At the age of six, she began piano lessons with her first teacher, Galina Novelskiene, at the Miko Petrausko music school in Kaunas. After ten years playing the piano, she turned to singing classical music, and for two years she studied at the Juozas Gruodis Conservatory in Kaunas. Her teacher there, was the well-known soprano, associate professor and head of department, Jurate Bukauskaite. Her studies continued at the Lithuanian Academy of Music and Theatre in Vilnius, from which she graduated with honours. She participated in many concerts in her home town, at the Kaunas State Musical Theatre. After moving to Cyprus, she has continued to perform in public.