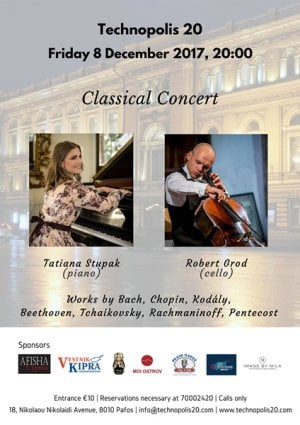 Event Details
A Classical Concert for piano and cello is organised on Friday, 8th of December 2017, at 8pm with the classical pianist Tatiana Stupak and the cellist Robert Grod. The two musicians return to Technopolis 20 for one more concert with a programme that will include works by Bach, Beethoven, Chopin, Kodály, Rachmaninoff, Tchaikovsky and Limassol composer David Pentecost.
Entrance: €10
Reservations necessary at 70002420 (calls only).
A few words about the musicians
Tatiana Stupak started learning the piano at age five, and later studied at the Rimsky-Korsakov State Conservatory in St. Petersburg. She won a Bach international competition and an organ international competition in Russia. She has performed in Austria and Germany as well as in Russia. Tatiana is now based in Cyprus, where she is well known, having played many times in the last few years, in Limassol, Paphos and Nicosia, both as a solo pianist and accompanying other musicians. She also teaches piano, having this year opened her piano school at The Russian House in Limassol.
Robert Grod was born in 1991 in Lithuania. He studied in Vilnius at the Balys Dvarionas music school in the class of J. Veiverienė. He is a laureate prize winner of the Dvarionas and Urba music competitions in Lithuania. In 2010 Robert began his studies at the Moscow State Conservatory, under the tutorship of Natalia Shakhovskaya. In 2012 he won first prize in the Kozolupov competition in Moscow, and in 2016 he graduated from the conservatory with honours. Since then, he has been working in Nicosia for Cyprus Young String Soloists, which is a programme of the Cyprus Ministry of Education and Culture, aiming at identifying children aged 3-18 who are very talented in music, and at providing them with instrument instruction at the highest possible level.