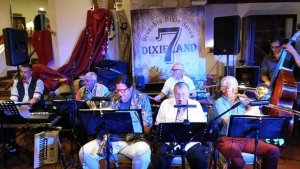 Event Details
The Droushia Dixie Seven Jazz Band invites to the garden of Technopolis 20 in Paphos, on Friday, 28th of July at 8:30pm, to enjoy the goodtime jazz of the 30s and 40's made popular by the likes of Louis Armstrong, Kid Ory, Sidney Bechet and revived in the '1960's by Chris Barber, Acker Bilk, Kenny Ball and many more.
The Droushia Dixie Seven band was formed three years ago by a group of now retired musicians from London, now living in Cyprus, who actually played with some of the greatest traditional jazz musicians from the sixties revival and who are able to reproduce the authentic sounds of that era.
David Locke on soprano sax leads the band in the style of Sidney Bechet, with Professor Bennie Rumo on clarinet. Belfast trombone star Jim Adair completes the front line. The rhythm section is led by Lord Worth on banjo. Now, added to the veterans, are two talented young Cypriot musicians, Chris Demetriou on string bass and Alex Sophocleous on drums. Both of these young Cypriots have embraced this style of music and provide the energy of youth behind the wisdom of the experienced front line players. Multi-talented pianist Maciej Kielak completes the line-up.
Entrance: 10 euro
Reservations necessary at 70002420.