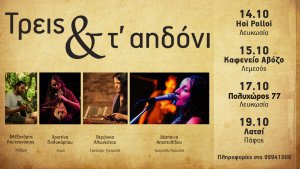 Event Details
The three musicians Veronika Aloneftou (santur, vocals), Alexandros Koutsonasios (guitar) and Christina Polycarpou (lyra), welcome for first time in Cyprus the Greek singer Despina Apostolidou, for only 4 shows.
They come together, inviting you to a musical journey through the traditions of Greece, Asia Minor and Cyprus.
They aim to create one musical result, based on the taste, the aesthetics and the musical experiences of each musician separately.
Despina Apostolidou
Despina Apostolidou is a singer for the last 15 years, mostly interested in the musical traditions of Eastern Mediterranean, Pontus and Greece.
She has collaborated in the past with the musical ensemble Karakaidones, and with other acclaimed musicians as Nicos Tatasopoulos, Antonis Apergis, Jimis Panousis, Nikos Kalogeropoulos, Dimitris Karras, Noe Zafirides, Lizeta Kalimeri, Solon Lekas, Giannis Papavasiliou (Vlaho) and many more, singing in festivals, events and concerts in Greece, Turkey, Germany and the Balkans.