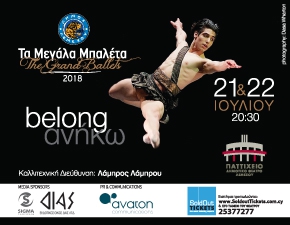 Event Details
The Municipality of Limassol presents, the outstanding event 'The Grand Ballets' for yet
another year, in Cyprus. This cultural event has become an annual institution since it was first organized in 2000. It is now one of the most significant cultural happenings for the city of Limassol and for the whole of Cyprus.

The Grand Ballets 2018 production will take place on the 21st and 22nd of July at the Pattihio Limassol Municipal Theatre, introducing a unique approach that will intrigue the public. An exquisite blend of magical moments and original choreographies, titled: "Belong".

Distinguished ballet dancers will express intense emotions, presenting a perfect synergy of the body and soul to the public.

Acclaimed Dancers
This year's production, Belong, is under the artistic direction of the internationally renowned dancer and choreographer Lambros Lambrou. Once again, world-renowned dancers from the English National Ballet, the Royal Ballet of London and the Vienna State Ballet, will enchant the audience. This year's programme will introduce a new dimension and outlook to the event. Professional Cypriot dancers, who perform in European companies and in Cyprus, will participate as well. For the first time in Cyprus, Cuban/Canadian Cesar Corrales – first soloist of the Royal Ballet, and Kateryna Khaniukova - Ukrainian soloist of the English National Ballet will perform as a duet, along with Ukrainian Denys Cherevychko and Russian Maria Yakovleva, both soloists of
the Vienna State Ballet (Wiener Staatsballet). Finally, just as significant to the production are the inclusion of Cypriot dancers who perform in theatres in Germany, Belgium, Estonia, the Czech Republic, United Kingdom, Israel and Cyprus.

Dance: A Delicate Art
Dance is a form of art that is much treasured in the city of Limassol. Having a long and rich tradition in this sector as the Municipality of Limassol, we believe it is our obligation and duty to endorse talented young artists and encourage the sensitivity of this art form on which their careers are built on. It is now the appropriate moment, to promote our accomplished dancers, and particularly those who come from Limassol, through this production, in which they will collaborate with big names from dance companies of international prestige.

The Grand Ballets is organised under the Aegis of the President of the Republic of Cyprus, H.E. Mr. Nicos Anastasiades.

Information & tickets:
Tel: 25377277, www.pattihio.com.cy and www.soldoutticketbox.com.