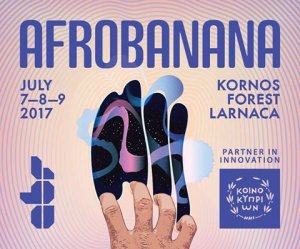 Event Details
When a huge dose of spine tingling music, a dash of rousing art and heaps of otherworldly aesthetics come together in the dreamiest forest location, all shaken up with a brilliant touch of magic and surrealism, it signals that the time has come for the highly anticipated Afro Banana Republic (ABR) Festival! Set to make this July more memorable than ever before, one of Cyprus' most talked about annual events will be returning for a thrilling celebration of all things creative in Kornos Forest.
The biggest occasion in its seven-year history, the festival will take place over the course of three days on the weekend of July 7th, 8th and 9th. The event will see top class award winning international acts jetting in to the island perform side by side a handpicked selection of leading local musicians, in what's set to be one of the most impressive mind blowing festival extravaganzas that Cyprus has ever witnessed.
Festival-goers can look forward to four different music stages, featuring over 40 musicians including 15 live bands mesmerising audiences with an explosive kaleidoscope of genre-defying sounds, inspiring crowds day and night in one big toe tapping, hip swinging, pulse raising celebration accentuated by artistic interventions, creative workshops, theatre performances and much more.
Having earned great international recognition for the second time in its short history as one of Europe's finest festivals, the ABR was recently honoured with yet another EFFE Label (2017-2018). Organised by the well-known ABR Alternative Brains Rule Non-Profit organisation, the team is comprised of a mix of forward thinking individuals at the forefront of the island's creative scene, in ongoing collaboration with the Bank of Cyprus as long term partners in innovation.
Far more than just a music festival, great attention has been also been placed on creating a truly immersive and collective experience, with the ABR Festival famed for its strong participatory ethos and great artistic flair, as a whole array of scheduled happenings will be encouraging crowds to explore, discover and enjoy totally new interactive experiences.
Kids can also take part in the fun with a special area set up specifically for little ones where fun, education and innovation will come together in creative workshops. For a truly relaxing and immersive experience, the festival camp grounds will provide the perfect spot to set up a tent or park a caravan in the shade of the pine clad forest, making the upcoming festival experience the perfect escape a world away from everyday reality!
USEFUL INFO
Festival dates: Friday 7th, Saturday 8th and Sunday 9th July. Kornos Forest, Larnaca district. Doors Open Friday: 2pm. Doors Close Sunday: 11pm.
Tickets: Presale: 1 Day €20 / 3 day €35. Doorsale: 1 Day €25 / 3 Day €45. Camping Per Tent €2
Free entrance for anyone under the age of 12.
Limited presale tickets are available online at www.afrobanana.com and at selected presale locations, until they sell out or until Presale ends on 5th July.
IF there are still available passes after the Presale ends, then you will be able to purchase them at the Entrance of the Festival grounds.
For further useful information on the event as well as amenities and practicalities (including directions, parking and shuttle bus services) and details on the full festival timetable, visit: www.afrobanana.com. Follow 'TheAfroBananaRepublic' on Facebook for all the latest festival updates and news!