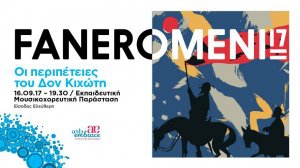 Event Details
"To change the world, my friend Sancho, is not madness nor utopia, but justice!"
The legendary quote by Don Quixote will resonate across the Bank of Cyprus Cultural Foundation during an educational concert addressed to children until age 12, though without strict age restriction.
Telemann's suite for strings and cembalo is based on the novel by Spanish writer Miguel de Cervantes Saavedra, one of the most inspired classics of modern Western literature. The concert's originality derives from the fact that a work of the Baroque era is revisited through a fresh look, using narration as a means to approach younger audiences in conjunction with rendering the story by means of contemporary dance and style.
> In collaboration with the cultural organisation artsembrace.now
> MUSIC: Concordia String Quartet
Costas Dermitzoglou– violin
Vicky Hadjiandreou – violin
Nicholas Efthymiou – viola
Doros Zesismos – cello
Eleana Andreou– double bass
Andri Hadiandreou – piano
>CHORUS: Vicky Kalla & Panagiotis Tofi
>NARRATION: Leda Karagianni
>UNDER THE GUIDANCE OF: Natasa Hadjiandreou
>TEXT: Magdalena Zira
>PROGRAMME EDITOR: Dr Andri Hadjiandreou
Saturday, 16 September 2017 at 19:30
Bank of Cyprus Cultural Foundation (Courtyard)
86-90 Faneromeni, old Nicosia
Information: 22 128 157 / f: boccf
FREE ADMISSION
The nights of the events, the Foundation's museums and exhibitions will remain open until midnight.