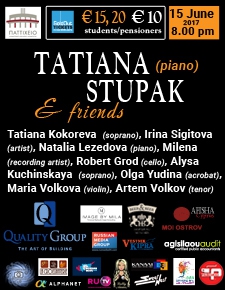 Event Details
A remarkable charity concert is to take place on Thursday 15th June at the Pattihion Municipal Theatre in Limassol.
Tatiana Stupak, the international laureate winner pianist will be playing works by Frédéric Chopin and David Pentecost, and will accompany other musicians performing works by Bach, Bizet, Donizetti, Dvořák, Fauré, Gershwin, Grieg, Massenet, Mozart, Verdi and others.
Stupak will also accompany Paphos pianist Natalia Lezedova in a work for four hands by Johannes Brahms. Lezedova will also play piano solos by Sergei Rachmaninoff.
The concert will be featuring performances by other prize-winning international artists: Tatiana Kokoreva (soprano), Artem Volkov (tenor), Maria Volkova (violin), Robert Grod (cello), Alysa Kuchinskaya (soprano), Irina Sigitova (artist) and Olga Yudina (acrobat), and will be presented by the popular songwriter and artist MILENA, who will also sing two of her latest songs.
Net proceeds from the concert will go to the "Love the children day fund" which was set up in 1993 by Round Table 6 and the radio station Kanali 6. This event will help children who are in the care of the Social Services.