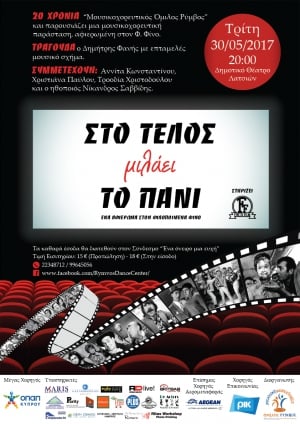 Event Details
Rymvos Dancing Group, to celebrate its 20th anniversary since the day it was established and on the occasion of the 40th memorial of Filopimin Finos, presents the show called "Sto telos milaei to pani" with the support of Finos Film. The show is dedicated to the founder of Finos Film and his important contribution to the Greek cinema. Via a massive number of films, he has promoted countless artists, directors, screen-writers, composers and singers.
Latsia Municipal Theatre, Tuesday 30th of May at 8pm.
More than 70 artists (singers, musicians, actors and dancers) shall transform the stage with an unforgettable dance and music performance of the golden age in the Greek cinema. Demetris Fanis will be singing accompanied by a 7 member band and Annita Constantinou, Christiana Pavlou, Troodia Christodoulou and actor Nikandros Savvides.
The net profits of the show shall be given to the association "One dream one wish".
Tickets are presold at Rymvos Dance Center.
For more information please contact us at: 22348712, 99645056.