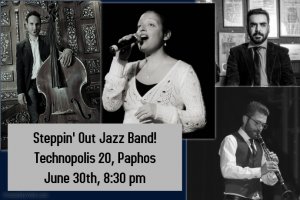 Event Details
After their successful event at Technopolis 20 in Paphos, the "Steppin' Out Jazz Band" returns to the venue, this time to its garden, on Friday, 30th of June at 8:30pm.
The band invites you to enjoy a tribute concert honouring the legendary French singer, Edith Piaf, with a programme that will include some of her greatest hits such as La Vie En Rose, Padam Padam, Je ne regrette rien. This time, the second part of the concert will feature other Jazz standards which were composed during her lifetime, by some of the most famous composers such as George Gershwin, Richard Rodgers, Cole Porter and many others.
The Steppin' Out Jazz Band is a professional Jazz band that performs swing standards from the 30s, 40s and 50s, composed by the greats of that era, such as George Gershwin, Duke Ellington and Richard Rodgers and as performed by Ella Fitzgerald, Billie Holiday and Sarah Vaughan among others. It features Alice Ayvazian - vocalist, Konstantinos Efraimidis - clarinet/saxophone, Dimitris Miaris - piano and Costas Challoumas - double bass. The band performs extensively around Cyprus and has been featured for many events and Jazz nights for various establishments.
Entrance: 10 euro
Reservations necessary at 70002420.
A few words about the musicians
Alice Ayvazian received her Bachelor's Degree in Vocal Performance from Berklee College of Music, Boston, Massachussets, a Master's Degree in Educational Leadership from Saint Mary's University, San Antonio, Texas and a second Master's Degree in Classical Performance and Pedagogy from the University of Nicosia, Cyprus. In the United States, she participated as lead and backing vocalist in numerous studio recording projects as well as performances and concerts. She has also performed in various venues, concerts and special events in Cyprus and has conducted numerous vocal workshops for choirs and other educational institutions. She is currently instructor of Jazz Voice at the Department of Music and Dance at the University of Nicosia and the Director of the University's Jazz Choir. She is the lead singer of the Steppin' Out Jazz Band and a member of the Cyprus Voice Center.
Konstantinos Efraimidis was born in Thessaloniki, Greece, in 1986. He started his classical studies at the age of 12. He is a classically trained clarinetist who received his diploma from the State Conservatory of Thessaloniki. During that time he was a member of the State Conservatory Symphonic Orchestra, the Symphonic Orchestra of Aristotle and the Concert Band of Sindos. He is currently continuing his music studies in Jazz Performance under the instruction of saxophonist Charis Ioannou at the University of Nicosia. Since moving to Cyprus, he has become an active member of the local music scene. He is a member of the Avanti Crossover Symphonic Orchestra, the Steppin' Out Jazz Band and The Hot Club of Cyprus, a gypsy Jazz band. During the summer of 2017 they will perform at the Windcraft Festival. Since October 2016 he is the clarinet teacher at the English School of Nicosia.
Dimitris Miaris was born in Nicosia in 1991. He started playing classical piano from 6 years old. At the age of 16 Dimitris had his first connection with Jazz through the "Jazz Futures" workshops that took place in Nicosia with great musicians such as Sacha Perry, Vahagn Hayrapetyan, Ari Roland and Chris Byars. Since then he took part in almost all the "Jazz Futures" workshops and had various live performances in Cyprus and Greece. He also attended the monthly Bicommunal Workshops with Charis Ioannou. The last two years he participated in Dr. Barry Harris' workshops in Rome. He is also a member of 'Neorebetes', a Greek traditional band, where he plays the accordion. The band has performed in Cyprus, Greece, Kazan (Russian), Sydney and Melbourne (Australia). He received his Bachelor Degree for Jazz Piano at the Ionian University's Jazz Department in 2009 under the instruction of George Kontrafouris.
Costas Challoumas was born and raised in Larnaca. He studied pedagogy at the University of Cyprus, where he graduated in 1999. He studied double bass and music theory with Nikos Ioannou and continued his studies at 'The Collective School of Music' in New York with Sean Conly and Joe Fitzjerald. For twenty years he is a member of various musical ensembles (traditional, jazz, latin etc.) and also of music and theatre performance groups. Amongst others, he was a member of the musical ensemble of ancient instruments 'Terandros', the original Cuban band 'Havana Noche' and 'Turnaround Jazz Quartet', while the last years he is the artistic director of 'Makam Ensemble'. He has collaborated in concerts and theatrical performances in Cyprus and abroad with important Greek composers and singers such as: Stavros Xarchakos, Glykeria, Giorgos Dalaras, Pantelis Thalassinos, Vasilis Lekkas, Dimitris Basis, Eleonora Zouganeli, Nena Venetsanou, Sofia Papazoglou and others. In recent years he has been working as a teacher in Primary Education. There, besides teaching music, he organizes and directs major contemporary orchestras with the pupils of the schools, who experiment and create through electronic and traditional instruments.