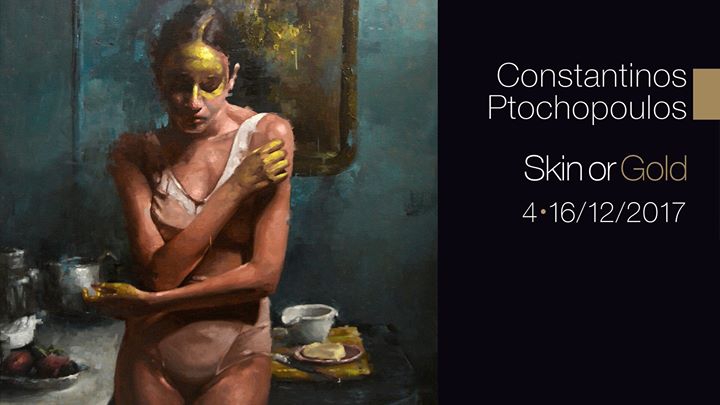 Event Details
Join us, Monday 4 December 2017 at 7.30p.m., for the opening of SKIN or GOLD by Constantinos Ptochopoulos.

With his latest work, Constantinos Ptochopoulos narrates the stories of fellow human beings. The fac-es are both familiar and distant and are portrayed in private settings; in rooms of memory and oblivion. Despite being covered with gold, they are impressively human. Gold does not conceal but, to the contrary, reveals the depth of a highly variable and rich psychological landscape. In every piece of work, we see a fellow human being who feels joy, sorrow or anxiety and looks for hope in an unde-fined source. With Midas' touch -the mythical king who turned anything to gold by just touching it- Ptochopoulos is posing a crucial question: What is more important in life, gold and whatever else it stands for or the individual as a person? With the power of his art he gives an unambiguous answer. Gold is a negligible outer layer and a fruitless devotion to matter and vanity. True wealth is to be found in every human being, in his vibrating soul and his skin which expresses joy and sorrow and bares the promise of a better tomorrow.

Constantinos Ptochopoulos was born in 1979 in Larnaka. He grew up in an artistic environment, being the son of painter Petros Ptochopoulos. He studied art at the Aristotelion University of Salonica. He now lives and works in Larnaka. Constantinos has exhibited his work in numerous solo & group exhibitions.
Earlier this year he was awarded First Round Award at the Art Olympia 2017 International Open Art Competition in Tokyo. This is his sixth solo exhibition.


Θα χαρούμε πολύ να σας δούμε στα εγκαίνια της έκθεσής μας «Skin or Gold» του Κωνσταντίνου Πτωχόπουλου, τη Δευτέρα 4 Δεκεμβρίου 2017 στις 7.30μ.μ.

Μέσω της νέας εικαστικής του πρότασης ο Κωνσταντίνος Πτωχόπουλος ιστορεί βίους ανθρώπων. Τα πρόσωπα, οικεία και μακρινά, απεικονίζονται σε ιδιωτικούς χώρους, δωμάτια της μνήμης και της λήθης. Παρότι καλυμμένα με χρυσό, γίνονται απρόσμενα ανθρώπινα. Ο χρυσός όχι μόνο δεν καλύπτει, αλλά αντιθέτως φωτίζει το ψυχικό βάθος ενός ποικιλόμορφου εσωτερικού τόπου. Στο κάθε έργο, ο θεατής έχει ενώπιόν του έναν συνάνθρωπο που χαίρεται, που πάσχει, που ελπίζει σε κάτι το απροσδιόριστο. Ο Πτωχόπουλος, με το άγγιγμα του Μίδα, θέτει ευθέως το ερώτημα: τι είναι το μείζον σ' αυτή τη ζωή, ο χρυσός και ό,τι αυτός πρεσβεύει ή ο άνθρωπος; Με τη δεινότητα της τέχνης του μάς προσφέρει με σαφήνεια την απάντηση. Ο χρυσός είναι το αμελητέο περίβλημα, είναι μια ανούσια προσκόλληση στην ύλη, μια απροκάλυπτη ματαιοδοξία. Ο πραγματικός πλούτος είναι ο ίδιος ο άνθρωπος, η ψυχή του που πάλλεται, το δέρμα του που συσπάται στη χαρά και τη λύπη.

Ο Κωνσταντίνος Πτωχόπουλος γεννήθηκε στη Λάρνακα το 1979. Μεγάλωσε μέσα σε καλλιτεχνική οικογένεια, αφού ο πατέρας του, Πέτρος Πτωχόπουλος είναι ζωγράφος. Σπούδασε στο Τμήμα Εικαστικών και Εφαρμοσμένων Τεχνών της Σχολής Καλών Τεχνών του Αριστοτελείου Πανεπιστημίου Θεσσαλονίκης. Σήμερα ζει και εργάζεται στη Λάρνακα. Ο Κωνσταντίνος έχει παρουσιάσει το έργο του σε πολλές ατομικές & ομαδικές εκθέσεις. Φέτος πήρε τη διάκριση «First Round Award» στον διεθνή διαγωνισμό Art Olympia 2017 International Open Art Competition στο Τόκιο. Αυτή είναι η έκτη ατομική του έκθεση.