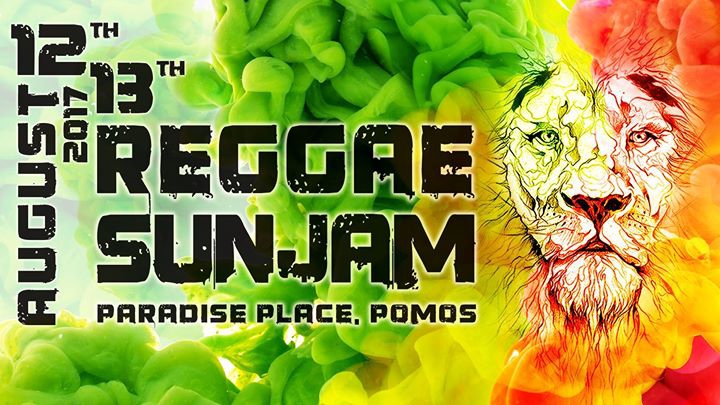 Event Details
Are you ready for the second REGGAE SUNJAM FESTIVAL??

This August Dubophonic, Easy Going Productions and Suzie Selecta invite all the Reggae lovers for another unique experience at Paradise place music bar-Pomos in Paphos!

Two days full of Reggae, Roots, Dub, Steppers and Dancehall tunes with top acts from abroad and a special local line up!

Join us at one of the most beautiful locations in Cyprus, next to the sea, with the most amazing sunset and nature all around! At the place you can camp, shower and enjoy lunch, dinner, breakfast and drinks.

Line – up:

★ 'Professor Skank' (GR - live + DJ set) ★
https://soundcloud.com/professor-skank

★ Jammaroots (GR - live) ★
https://www.youtube.com/user/jammaroots

★ Syrina Sound (NL)

★ KingOfEye (UK - live Dub + DJ set)
http://www.kingofeye.com
http://www.youtube.com/kingofeye
http://soundcloud.com/kingofeye/

★ Haji Mike & KEMAL (live acoustic)

★ Dub Thomas (Dubophonic)
http://www.dubophonic.com
https://www.mixcloud.com/dubthomas/

★ Mrs HCN

★ DJ Monday (Jah Star Sound)
https://soundcloud.com/dj-monday

★ Pan Khaos (Easy Going Productions)

★ Suzie Selecta
https://www.mixcloud.com/suzieselecta/
https://soundcloud.com/suzie-selecta

★ CONSTANTINOS (Easy Going Productions)

★ CHILLUM BROTHERS

Festival times:
Saturday 12/8, 18:00 - 03:00
Sunday 13/8, 12:00 (noon) - 02:00

Entrance:
€10 – 2 days
€7 – one day

Tickets available at the door // All blessed no stress // No need for pre-sale, just take it easy, enjoy the ride to Pomos and come to join the vibes!

Info: 70007102, 26342016

Media Sponsor: Rock FM Cyprus

Supported by:
Onetropic - http://www.onetropic.com/
Cactus arts & crafts ltd
Health Basket Κατάστημα Υγιεινών Τροφών Organic Shop
Magos Record Shop / Δισκάδικο Ο Μάγος

CAMPING SITE
---------------------
If you are planning to camp at Paradise Place during the Festival we have some useful information for you! Please read it carefully in order to secure your comfortable stay with us!

The space for tents is limited. This means that the priority simply goes to those who arrive first. In order to accommodate as many as the facilities can take remember to use just the space you need for your tent! If you are planning to arrive late at the Festival you can contact us to let you know if there is still space available for your tent. No cars are allowed inside the venue.

There are toilets and an outdoor shower at the venue.

During the Festival food and drinks (alcoholic /non-alcoholic) will be provided at reasonable prices. It is not allowed to bring your own food and drinks inside the venue. Breakfast will be also served on Sunday and Monday morning!

If you are planning to bring a pet with you remember that there is going to be a lot of people at the event on both days and that this might be uncomfortable for you and for your pet. You will be responsible for controlling your pets and making sure there are no issues created during their stay at the space.

The camping site has no lights, so remember to bring flash lights. Also, it can get a bit chilly in the night.

Finally, let's respect each other during resting hours and keep it quiet and peaceful at the camping area!