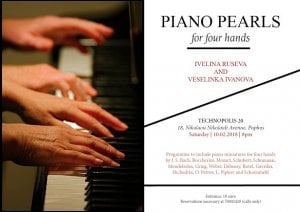 Event Details
The Duo Piano, Ivelina Ruseva and Veselinka Ivanova, invite you to the piano recital entitled 'Piano Pearls', at Technopolis 20 in Paphos, on Saturday, 10th of February 2018, at 8pm.
The duo will perform piano miniatures for four hands by J. S. Bach, Boccherini, Mozart, Schubert, Schumann, Mendelsohn, Grieg, Weber, Debussy, Ravel, Gavrilin, Shchedrin, O. Petrov, L. Pipkov and Schoenmehl.
Entrance: 10 euro
Reservations necessary at 70002420 (calls only).
A few words about the artists
The pianist Veselinka Ivanova, after graduating from the 'Prof. Vesselin Stoianov' School of the Arts in Rousse, Bulgaria, she completed her studies at the Bulgarian State Conservatory in Sofia under Prof. Lilly Atanassova. She has won numerous prizes from Piano Competitions in Bulgaria and participated in masterclasses with Prof. Rudolph Kehrer in Weimar, Germany. Since 1983 she has been teaching piano, chamber music and pedagogy at the 'Prof. Vesselin Stoianov' National School of the Arts in Rousse. Ms Ivanova has presented recitals in all major Bulgarian cities as well as in Germany, Romania, The Netherlands, Switzerland, Norway and USA. Her repertoire includes standard repertoire as well as many works by Bulgarian composers such as Pancho Vladigerov, Vesselin Stojanov and Vassil Kazandjiev, a body of work to which she is particularly dedicated. She was a featured soloist with the Philharmonic Orchestras of Shumen and Rousse, as well as the Academic Orchestra in the Bulgarian State Conservatory in Sofia. As both soloist and chamber musician she has been invited to perform at the international festivals in Bulgaria, Germany, The Netherlands, Moldova, Switzerland, Norway, Spain, and USA. She has been invited for piano masterclasses and concerts in USA, Germany, Spain and Norway. To her credit are several recordings for the Bulgarian National Radio and the Bulgarian National Television. She has served as jury member of piano competitions in Rousse and Shumen, and has been acknowledged as a master teacher by many teaching awards. Her students to date have won more than 150 prizes from national and international competitions in Bulgaria, Romania, Czech, Slovakia, Germany, Italy and The Netherlands. Many continue their music education in Bulgaria as well as in Europe, Canada and USA.
Ivelina Rouseva was born in Ruse, Bulgaria. At the age of seven she began piano lessons and at ten she was accepted in the music school "Veselin Stogianov" - Ruse. During her studies she participated in many concerts and competitions for solo piano. In 1992, she graduated with honors and was accepted at the National Music Academy "Pancho Vladigerov" in Sofia, Bulgaria, from which she graduated with honors again. Since 1999 she has been living in Paphos, where she teaches piano with very good results and also takes part in various cultural events and concerts for solo piano and chamber music. Her experience in piano education spans more than 20 years.