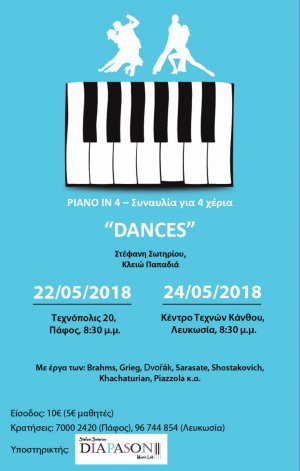 Event Details
The piano duo Clio Papadia and Stephanie Soteriou, celebrate the forthcoming summer season with a dancing mood, through a recital with piano duet classical dances at Technopolis 20, on Tuesday, 22nd of May 2018, at 8:30pm.
Famous works like, Hungarian Dances by Brahms, Norwegian Dances by Grieg, Slavonic Dances by Dvoȓák, as well as waltzes, polkas, tango, samba and many more will be included in the programme, composed by Schubert, Strauss, Shostakovich, Khachaturian, Rachmaninov, Sarasate, Stravinsky, Piazzola and Mozart.
Entrance: 10 euro
Reservations are necessary at 70002420 (calls only).
A few words about the musicians
Clio Papadia holds a BMus degree in Piano Performance from the Department of Music Science and Art, University of Macedonia, Greece (class of Uwe Matschke and Petros Vouvaris). She also holds an MA in Music Education from the Institute of Education, University of London. She has received her Diplomas in Piano Performance and Harmony of Music from the European Conservatory of Cyprus, as well as the Grade 6 of the Royal Schools of Music in Viola. As a pianist, she has performed in various concerts in Cyprus, Greece, London and Austria and as representative of Greece, in the Closing Ceremony of the 29th World Conference of the International Society for Music Education in Beijing (ISME, 2010). She has participated in courses and seminars on Piano Performance and Chamber Music and has made presentations on Piano Pedagogy and Music Education topics in various Conferences and Seminars (I.S.M.E., G.S.M.E, E.A.S., E.P.T.A.). She has been awarded a scholarship by the States Scholarship Foundation of Greece and the Leventis Foundation. She teaches piano in the public Music Schools of Cyprus and at Musicopolis.
Stephanie Soteriou was born in Athienou, Larnaca, in 1989. At the age of 8 she started her first piano lessons with Christos Pechlivanis and afterwards she studied with Dr. Nicolas Constantinou. She gained her Bachelor Degree in Piano Performance at the Music Department of the Ionian University of Greece, as a student of the famous teacher and pianist, Elena Mouzala. During her undergraduate years, she studied chamber music and music education as well. She has performed with the Ionian University Orchestra as a soloist, as well as with various ensembles of the University. She has performed as a soloist and chamber musician in concerts in Cyprus and Greece. She was the pianist of the professional vocal ensembles "Professional Music Artists" and "Avanti 4" and has also performed as a pianist in several music bands. Since 2012, she is the accompanist of Athienou Choir. She is a piano teacher at the Music School of Larnaca and has also founded her own music school "DIAPASON" in Athienou, in collaboration with the National Conservatory of Larnaca.