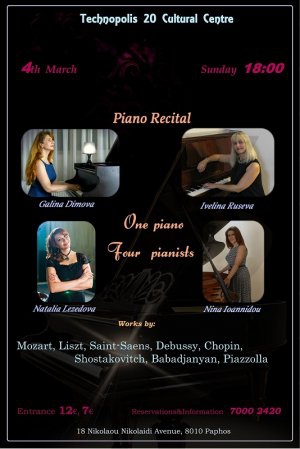 Event Details
The pianists Galina Dimova, Ivelina Ruseva, Nina Ioannidou, and Natalia Lezedova invite you to a classical concert dedicated to piano, at Technopolis 20, on Sunday, 4th of March 2018, at 6pm, where they will perform solo, duos and even six hands works.
The programme will include works by Mozart, Saint- Saëns, Liszt, Debussy, Chopin, Shostakovich, Babadjanyan and Piazzolla.
Entrance: €12
Reservations necessary at 70002420 (calls only)
A few words about the musicians
Nina Ioannidou was born in Russia. She graduated from Musical University of Stavroupoli in Russia and from the Musical Faculty of the University of Greece. In 2003 – 2004 she took part in the competitions in Athens and won first and second prizes. She has taught and accompanied in Greece and for the last eight years has taught in music schools in Paphos and Limassol.
Galina Dimova was born in Chirpan, Bulgaria in 1967. She graduated from The Academy of Music, Dance and Fine Arts in Plovdiv with distinctions, obtaining an M.A. in Music Education and Piano Pedagogy. In addition, Galina has a PhD on the piano compositions of the Cypriot pianist and composer Nicolas Economou. She has made multiple publications in Bulgarian, as well as in English. She also collaborated with video artist Yiannos Economou, as a composer and performer. Galina plays extensively both as a soloist and as an accompanist and has an unusually wide repertoire, ranging from Baroque all the way up to contemporary music.
Natalia Lezedova is a graduate of the Musical Faculty of the State Pedagogical University of Russia, and she also has postgraduate studies in 'Musical Art' (2012). She has an advanced training course from the Rimsky-Korsakov Saint-Petersburg State Conservatory (2013). She is a Laureate of five international competitions, among them: two first prizes as a performer-soloist (Saint-Petersburg and Moscow 2012), winner of the Grand-Prix musical festival-competition "Severnaya Venetsia" (2012) and Laureate of the first prize as a Concertmaster (Musical Competition Performing Arts Saint-Petersburg 2013).
Ivelina Ruseva was born in Ruse, Bulgaria. At the age of seven she began piano lessons and at ten she was accepted in the music school "Veselin Stogianov" - Ruse. During her studies she participated in many concerts and competitions for solo piano. In 1992, she graduated with honors and was accepted at the National Music Academy "Pancho Vladigerov" in Sofia, Bulgaria, from which she graduated with honors again. Since 1999 she has been living in Paphos, where she teaches piano with very good results and also takes part in various cultural events and concerts for solo piano and chamber music. Her experience in piano education spans more than 20 years.