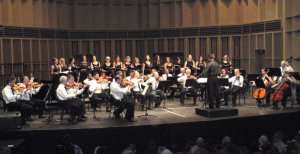 Event Details
The Mayor of Nicosia Mr. Constantinos Yiorkadjis, the Members of the City Council and the 'Friends of Harmony' invite you to the Spring Concert of the Concert Orchestra of the Nicosia Municipality and the 'Armonia' Chorus Ensemble, directed by Stavros Papantoniou, on Tuesday May 23rd, 20:30, at PALLAS Theatre, Nicosia.
Soloists: Anna Pavlou (Flute), Mariza Anastassiadou (Soprano), Zena Chouloude (Soprano) and Marios Andreou (Tenor).
The concert features compositions by Vivaldi, Mozart, Handel, Smetana, Theodorakis, Strauss, A. Lloyd Webber, Lymbourides, Songs of Napoli and Cinema music.
FREE ENTRANCE
Voluntary donations to the 'Polydynamo Center of the Nicosia Municipality'.