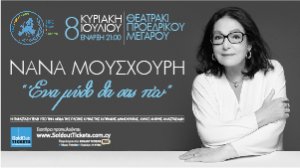 Event Details
The International Greek singer Nana Mouskouri presents a unique concert for 'HOPE FOR CHILDREN' at the Cyprus Presidential Palace, as part of her world tour in Europe, America and Canada.
Nana Mouskouri started from Greece 60 years ago, carrying in her musical 'luggage' the songs of Nikos Gatsos and Manos Hatzidakis. With her voice she tοοκ Greek music to the most important theaters in the world, from the Paris Opera, the Royal Albert Hall in London and the Berlin Philharmonic to the Lincoln Center in New York, the Sydney Opera House and the Teatro Monumental in Chile.
With more than 10,000 performances all over the world, she has comes to Cyprus after her concert on 5th July at Herodion, Athens, this time to sing her 'Myth'. The myth that started with a Paper Moon and eventually realised everything she had dreamed of. The myth that has linked her forever with Manos Hatzidakis, Nikos Gatsos and Melina Merkouri, who were her musical 'lighthouses' in the seas of the world. Their 'presence' in the concert will therefore be more noticeable, as these songs remain for her the most precious belongings.
The concert is held under the auspices of The First Lady of the Cyprus Republic, Mrs. Andri Anastasiades.