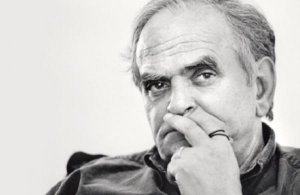 Event Details
The music band "Oneirodromoi" (Dream roads) invite you to a music tribute to Lefteris Pa-padopoulos, one of the most important Greek lyricist, writer and journalist, to enjoy some of the most long-time classic Greek songs. The tribute will take place at Technopo-lis 20, on Saturday, 27th of January at 8pm.
The band consists by the father & daughter, Petros Petrou (voice) and Marilena Petrou (guitar-voice) and for this tribute Anthi Hatjikyriakou (piano) will also participate.
Lefteris Papadopoulos was born in Athens, Greece on 14 November 1935. He is the son of Greek refugees, with a father from a village near Bursa in today's Turkey and a mother from a village near Novorossiysk in Russia. He enrolled at the Law School of the University of Athens but stopped during his third year in order to work as a journalist and managed to become a popular columnist over time.
Papadopoulos became involved with music in 1963. He has written the lyrics for about 1,200 songs and has co-worked with nearly all of the well-known musicians, composers and singers of his generation, namely Mikis Theodorakis, Stavros Xarhakos, Manos Loizos, Stavros Koujioumtzis, Mimis Plessas, Christos Nikolopoulos, Stelios Kazantzidis, Grigoris Bithikotsis, George Dalaras, Marinella, Viki Mosholiou and others.
Besides writing lyrics to Greek songs, Papadopoulos was also wrote theatrical plays and many songs for the theatre and the cinema. He has been awarded several times and two times from the Municipality of Athens. In 1969, composer Mimis Plessas's work of songs 'O Dromos', to which Papadopoulos contributed the lyrics, became the fastest selling Greek album.
Entrance: €10
Reservations at 70002420 (calls only).
Music band "Oneirodromoi"
The music band "Oneirodromoi" consists of Petros Petrou and Marilena Petrou. Every-thing started six years ago when Petros together with his daughter Marilena, decided to share with the people, their love for music and singing. Therefore, the last four years they perform in different venues in Nicosia and participate in several charity events. Their programme includes mainly Greek repertoire with urban folk songs and 'rembeti-ka'. In this tribute participates also on piano, Anthi Hadjikyriakou.
Petros Petrou was born in Nicosia and was a former Officer at the Cooperative Central Bank (1982 – 2011). In recent years he has been professionally involved in music and singing, since he has always had a great love for Greek music. He has been a member of various choirs in Nicosia and several times as a soloist singer. Today he performs with the music band Oneirodromoi as a singer in various venues mainly in Nicosia.
Marilena Petrou is 22 years old and comes from Nicosia. In 2017 she completed her studies in Music, with degree in Music Performance and Education at the European Uni-versity of Cyprus. There she dealt with various kinds of music such as jazz, blues, rock, fancy, pop, having as main instrument the electric guitar. Nevertheless, her love for the Greek music resulted in performing with the music band Oneirodromoi, in which she participates as a guitarist and singer.
Anthi Hatzikyriakou is 23 years old and comes from Limassol. She graduated from the University of Cyprus in June 2016 in the field of Business Administration in Account-ing. Since September 2017 she has continued her studies with a Master's degree in Eco-nomics and Management. Her relationship with music began in 2003 when she began studying at the Elikonas Music School. She has been involved with Greek music for several years, occasionally participating in various events.