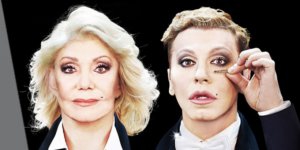 Event Details
The Grand Dame of the Greek Song Marinella meets the great showman with a thousand faces, Takis Zacharatos in what is expected to be one of the biggest spectacles of the year.
Marinella is one of the most prolific Greek folk singers with a career spanning several decades. She has released 66 solo albums and has been featured on albums by other musicians.
Takis Zaharatos is a famous Greek mime artist, singer and actor, known for his imitations of personalities focusing on the Greek art scene and politics.