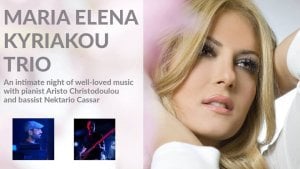 Event Details
You will normally find Maria Elena Kyriakou gracing the big stage, yet here is an opportunity to experience her stunning voice and her passion for music in a very up-close and intimate concert, full of well-loved songs.
Maria Elena was the winner of The Voice Greece in 2014 and she represented Greece in the 2015 Eurovision.
Maria Elena Kyriakou is joined by pianist Aristos Christodoulou and bassist Nektarios Cassar, both extremely talented, experienced and versatile musicians.