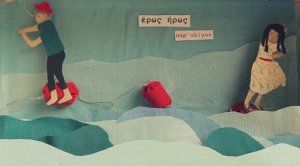 Event Details
Eidekanou Theatre devises for the stage a short story by Alexandros Papadiamantis. Using the original text, a minimal set and the actors' imagination, the company creates a show that links the old and the new.
The young hero, Yiorgis, is called upon to ferry away on his boat his childhood love; she has just gotten married to an older man.
The story follows the hero's journey to acceptance.