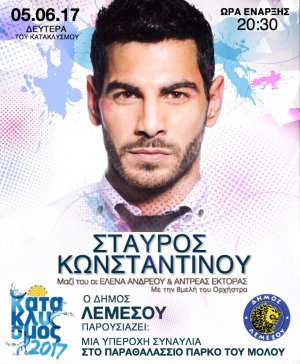 Event Details
In Limassol the Flood Festival will take place at the Molos seafront park from the 3rd until the 5th of June 2017.

Limassol Flood Festival programme:
Saturday 3 June, Sunday 4 June & Monday 5 June
Folk Festival featuring Cypriot products and other traditional items in the Eastern Car Parking Area.
Saturday 3 June & Sunday 4 June
15:00 - 17:00 Boat sailing demonstration by the Sailing and Rowing Group of the Lemesos Nautical Club in front of the Molos piers.
Sunday June 4 & Monday 5 June
Take a ride on the Relax Cruises Boat 'SALONE' to see the town from the sea.
Departure: 18:00 / 19:00 / 20:00 / 21:00
Ticket price: Adults: 5 Euro, Children (up to 12 years old): 2 Euro
All proceeds will be offered to social institutions.
Sunday 4 June
Location: Pier opposite the Blue Café
20:30 The Folklore Research Glub presents a program with dances from Macedonia.
21:00 The Cultural Club 'New Horizons' presents a program with Aegean dances.
21.30 The 'Zedros' Cultural Club of Polemidia presents Cypriot dances and traditional poems (tsiatista)
Monday 5 June
St. Raphael Yacht Club organises offshore races at 15:00 - 17.00 from the St. Raphael Marina, along the coast up to Lemesosl Marina and back to St. Raphael's Marina.
Location: Piers at the Seaside Park
20.00 Shadow Theater 'Karagiozis at the Flooding Day celebrations by the Karagiozis player Yannis Paphios.
Location: Piers of the Seaside Park.
15.00-18.00 Monday, June 5th, during the Flooding Day, at 15.00 at the Molos Seaside Park, next to the Yellow Café and between the docks, a Slacklining show and lesson will take place for all those interested who will be supervised by experienced athletes.
Slacklining is a balance sport where one walks along a stretched strap fastened between two anchor points.
20.00-23.00 Astronomical observation in the Lemesos Sky - Old Port Pier
The House of Science and the Lemesos Municipality are organising for the 2nd consecutive year an astronomy night at the beautiful dock of the Old Port.
The program includes:
• Observation through telescopes of Moon, Jupiter and Saturn celestial bodies
• Getting acquainted with the constellations of the night sky
• Discussion of astronomy issues through brief presentations.
Location: Pier opposite the Blue Café
20:30 Concert with the famous singer Stavros Constantinou and his 5-member orchestra in a tribute to Antonis Vardis, Marios Tokas, Yannis Parios, Manos Loizos, Giorgos Theophanous and other well-known composers.
The program is subject to changes.
For information call the Cultural Services of Lemesos Municipality at +357 25 745 919.

Click on attachments to view full programme details in Greek and English.