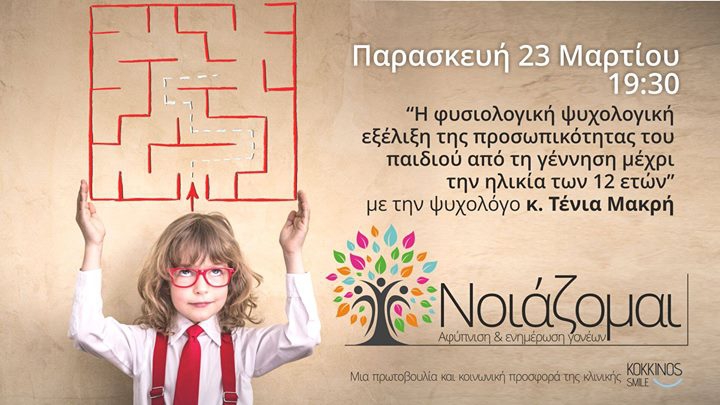 Event Details
nLecture from famous psychologist mrs Tenia Makri on Friday 23 March at 19:30. Subject: 'The natural psychological development of a child's personality from birth until 12 years old'.

Lecture will be held at Kokkinos Smile Clinic on 91 Griva Digeni Avenue, 2nd Floor, Limassol.

Με ιδιαίτερη χαρά σας προσκαλούμε στον 1ο κύκλο διαλέξεων του «ΝΟΙΑΖΟΜΑΙ – Αφύπνιση & ενημέρωση γονέων», μια πρωτοβουλία και κοινωνική προσφορά της κλινικής Kokkinos Smile. Δείτε εδώ περισσότερες πληροφορίες για αυτή την πρωτοβουλία https://goo.gl/bFwmkE

Η 1η διάλεξη θα πραγματοποιηθεί την Παρασκευή 23 Μαρτίου 2018 στις 19:30. Το θέμα της διάλεξης είναι «Η φυσιολογική ψυχολογική εξέλιξη της προσωπικότητας του παιδιού από τη γέννηση μέχρι την ηλικία των 12 ετών" με ομιλήτρια την ψυχολόγο κ. Τένια Μακρή.
Η διάλεξη θα πραγματοποιηθεί στην κλινική Kokkinos Smile, Γρίβα Διγενή 91, 2ος όροφος, Λεμεσός.

ΣΗΜΑΝΤΙΚΕΣ ΠΛΗΡΟΦΟΡΙΕΣ
Είσοδος Ελεύθερη
Οι θέσεις είναι περιορισμένες
Θα τηρηθεί σειρά προτεραιότητας
Δίνεται Πιστοποιητικό Παρακολούθησης

Για επιπρόσθετες πληροφορίες επικοινωνήστε με το Τμήμα Υποδοχής τηλ. 25 582144.

Για ΔΗΛΩΣΕΙΣ ΣΥΜΜΕΤΟΧΗΣ επικοινωνήστε με την κ. Μαρία Παπαλεοντίου από τις 09:00 μέχρι τις 16:00, στο τηλέφωνο 25582144, ή στο inbox μας στο Facebook, ή στο email manager@kokkinosmileclinic.com.