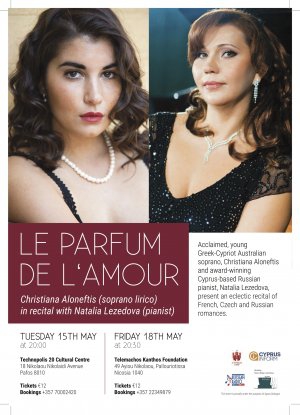 Event Details
The acclaimed, young Greek-Cypriot Australian soprano, Christiana Aloneftis and the award-winning Cyprus-based Russian pianist, Natalia Lezedova, present an eclectic recital of French, Czech and Russian romances, entitled 'Le Parfum De L' Amour' at Technopolis 20, on Tuesday, 15th of May 2018, at 8pm.
The programme will include works by Debussy, Rimsky-Korsakov, Alabieff and Rachmaninoff.
Entrance: 12 euro
Reservations are necessary at 70002420 (calls only).
A few words about the musicians
Young Greek-Cypriot Australian Soprano Lirico, Christiana Aloneftis, currently based in Germany, she holds a BMus and a DipLang (Adv. Italian) from The University of Melbourne (2012) and a Master of Interpreting and Translation Studies from Monash University (2014) with fluency in 5 languages. The recent graduate (full-scholarship) of the École Normale de Musique Alfred Cortot Paris (ENMP) and has performed a variety of roles including Musetta (Connecticut Lyric Opera/ 2016 Greve Opera Festival), Zerlina & Susanna (The North Czech Philharmonic Orchestra) and most recently Annina with Opera Classica Europa (Germany 2017). She also made her US debut, last year, as the soprano soloist for Bach's BWV 32 'Liebster Jesu, mein Verlangen' with The Connecticut Virtuosi Chamber Orchestra, was a finalist in the Australian Opera Awards and won the Acclaim Ambassadorial Scholarship to assist with her studies in Paris. Most recently, the young soprano made her Australian operatic debut singing the role of Tsarevna (Kashchey the Immortal N. Rimsky-Korsakov) in "CitiOpera's mounting of this resplendent rarity" (The Age 2018) at the Melbourne Recital Centre. The young soprano is currently based in Munich to take on an intensive training opportunity with Bavarian State Opera professionals at one of the top six opera houses in the world where she will engage in role study, agent auditions and preparation for participation in major international singing competitions. Aloneftis is looking forward to creating her own recital for the prestigious Pharos Arts Foundation Cyprus for their Young Artist Series later in the year.
Natalia Lezedova (piano) is a graduate of the Musical Faculty of the State Pedagogical University of Russia, and she also has postgraduate studies in 'Musical Art' (2012). She has an advanced training course from the Rimsky-Korsakov Saint-Petersburg State Conservatory (2013). She is a Laureate of five international competitions, among them: two first prizes as a performer-soloist (Saint-Petersburg and Moscow 2012), winner of the Grand-Prix musical festival-competition "Severnaya Venetsia" (2012) and Laureate of the first prize as a concertmaster (Musical Competition Performing Arts Saint-Petersburg 2013).