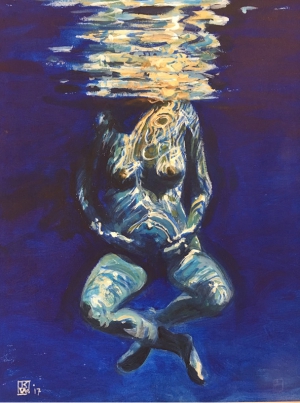 Event Details
The artist Keith Walker invites you to his paintings exhibition entitled "Underwater Sunlight" at Technopolis 20 in Paphos, which will open on Friday, 12th of May 2017, at 7pm.
The theme continues his study of underwater sunlight on the human form and how it transforms it into other detached shapes and patterns. This time the subject matter includes the pregnant form and mother with child, allowing you to see the transformation of the woman's body during pregnancy. Most of the recent work has been carried out in acrylic paints from photographs taken by the artist underwater, in an impressionistic/expressionistic style.
This exhibition gives an opportunity to also celebrate the motherhood, since the Mother's Day will be celebrated during the days of the exhibition.
Opening: 12 May 2017, 7pm
Duration of the exhibition: 12 – 19 May 2017
Visiting Hours
Monday – Tuesday: 10am – 5pm
Wednesday – Saturday: 10am – 1pm
Keith Walker studied Fine Art in the UK in the sixties graduating with an Art Teachers' Diploma from Southampton University. A move to Cornwall in 1974, where he learnt to sail and scuba dive, was the start of his romance with the sea! He also had the opportunity to work with other artists in their Newlyn and St. Ives studios, long associated and famous with the art scene worldwide. He first started taking underwater photographs in the 80's with a simple Minolta Weathermatic camera, but it wasn't until he went digital at the beginning of the new millennium with a waterproof housing that the full potential of his chosen subject became clear! He has always enjoyed working from the nude and placing it in water and allowing the scattered surface sunlight to describe patterns across the form gives opportunities to create stunning images. He has three styles of working and this body of work falls into what he describes as his "decorative" category.