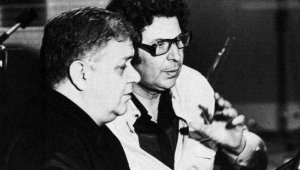 Event Details
A concert dedicated to the music of the two great composers, Mikis Theodorakis and Manos Hadjidakis, at Technopolis 20, on Wednesday, the 27th of December at 8pm, with Savvas Chrysostomou on the guitar and Marianna Georgiou on the piano.
Sing along to some of the most famous tunes of the two composers in a cosy festive atmosphere.
Entrance: 10 euro / 5 euro (students)
A few words about the musicians
Savvas Chrysostomou is a singer/songwriter from Cyprus who is currently living in Leeds because of his studies. He started playing the piano from the age of six and guitar from the age of seven. He wrote his first song by the age of 12. Then he started participating in various music competitions. He won awards such as, 1st Prize at Lions Songwriting Contest, 2nd Prize at Pancyprian Songwriting Contest 'Marios Tokas', and his highlight was when he won the First prize on Song Performance at the 3rd International Music Olympiad, in Lithuania. He started playing in gigs by the age of 16 with his cousin George Efthymiades with which he created the band 'Oikogeneiaki Ypothesi'. Savvas played at the biggest venues in Cyprus and in small bars in a more acoustic mood. He performed in big tributes of famous Greek composers such as, Mikis Theodorakis and Manos Hadjidakis. His best moment was when he performed at the spectacular show "Eternal Voyages" produced by "Walk the Plank", for the European Capital of Culture Paphos2017. He released his first demo album on February 2016 and two singles on July 2017 and September 2017. Savvas is currently studying Music Performance and Production in Leeds.
Marianna Georgiou was born in 1993 in Paphos, Cyprus. She took her first piano lessons at the age of five and was classically trained for twelve years under the supervision of the Bulgarian tutor, Ivelina Ruseva. She attained her first Soloist Piano Diploma (ATCL) at the age of seventeen. She also took classical guitar lessons and passed her Grade 8 classical singing exams (ABRSM) with distinction. In 2011, she began her academic career at the University of Nottingham under the supervision of Brenda May and achieved a scholarship and a First Class Honours for the Bachelor's degree based on Piano Performance. In 2015, she attained her Master's degree in Piano Performance and Performance Practices from the University of Nottingham. During her studies she was a part of various orchestral ensembles (The University of Nottingham Symphony Orchestra, the chamber music ensemble, accompanist of vocal groups and the 20th century ensemble). She has taken part in several masterclasses and concerts around UK and Cyprus (Masterclass - Janina Fiaklowska/ Clare Hammond, Derby Arts festival -awarded the second prize-, Pre-Concert artist at the Royal Albert Hall of Nottingham for Czech Philarmonic). In her most recent years, Marianna has performed as a soloist and as part of ensembles in concerts and festivals around Cyprus and from September 2016, has taught piano at the Music Schools of Paphos.