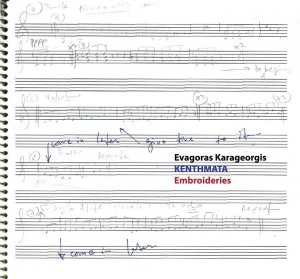 Event Details
The musician and composer Evagoras Karageorgis invites you to the presentation of his new recording release, entitled "Kentimata (Embroideries)" through a discussion and music examples of his work, at Technopolis 20 in Paphos, on Tuesday, 30th of January 2018 at 7pm.
Kentimata were composed in New York between the years 1987-88. While living and studying in N. Y., the composer was influenced by and exposed to various styles of music, besides the music from his academic studies.
John Schaefer's New Sounds program on WNYC radio station was one of them. A lot of influence also comes from the Greek music tradition. At the same time, a lot of new equipment, sequencers, samplers, cheap multitrack and home studios came out in the market of N. Y. The fact that musicians could explore and create music with new sounds and modern ways was something very provocative and attractive at the same time.
These influences were a reason to begin experimenting. The composer worked on a 4 track Tascam Mini home studio tape recorder, mixed his basic musical ideas and then completed the 12 pieces in a Manhattan studio on an Atari P.C.
Kentimata is a work based on repetition (Loop music). Various repeated melodic, harmonic or rhythmic motifs (ostinati) coming in and out, create in a way, a face of music that changes constantly.
Thirty years after, Sofronis Sofroniou. Emiddio Vasquez and Panayiotis Mina listening to Kentimata, were definite that E. Karageorgis should publish this work. This work could not be out without the help of, Matheos Alexandrou for the recording and production in N. Y. (1988), ESET Cyprus and the G.M.P. Katsampas Lt.d, for the publication in Nicosia (2017) and Stefanie Pantelidou for the cover's art work.
Free Entrance
For more information contact us at 70002420.