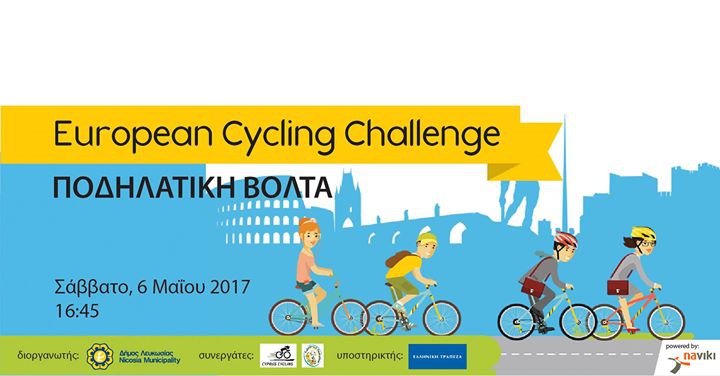 Event Details
Cycling Ride – European Cycling Challenge 2017

Nicosia Municipality, participates for the 3rd consecutive year, in the European Cycling Challenge. The cycling challenge is a cycling competition amongst European cities. The Cycling Ride will celebrate the start of the competition and will take place on Saturday 02 May 2017 at 16:45 at the Nicosia Municipality.

The cycling ride is suitable for everyone and all ages and will include a small ride within Nicosia. The cyclists will then continue the big challenge of about 23 kilometers.

Nicosia Municipality invites everyone for a cycling ride aiming to improve last year's position coming in 38th out of 52 cities.
The ECC is the biggest cycling event across Europe. The idea is to encourage people to use their bikes as much as possible. It's about everyday cycling for everyone. All cycling is permitted with the exception of sporting and training events.
According to the municipality's announcement, the Cycling Challenge recommends a new approach to mobility, and promotes the reduction in car use.
The winning city will be the one which will travel the most kilometers (City Leaderboard), while a special award will be given to the first three cities that will travel the most distance, in relation with their population (Best Cycling City).

To sign up for the challenge, visit cyclingchallenge.eu and choose "Nicosia City Region", then download the official app, Naviki. On the app (or webpage), go to Leaderboards (cup icon) and choose any other group information (e.g. individual College or Workplace). Record your journeys throughout the month of May. You can also use data from Strava or other route trackers or, trips can also be manually logged.

It is noted that the use of bicycle for sporting won't win any marks for the city. Any route will be countable only if the average speed is less than 30 km/h and the maximum speed does not exceed 45 km/h.

Entry is free and open to all!