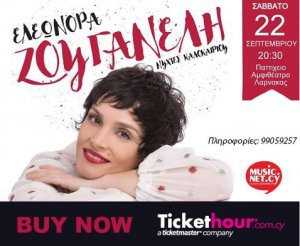 Event Details
The Greek singer Eleonora Zouganeli is coming to Cyprus this September for concerts which are part of her Summer 2018 Tour.
The concerts will include songs from her new album which has been recently released.
Eleonora will be accompanied by a group of excellent musicians:
Michalis Kapilidis - Drams, Dimitris Barbagalas - acoustic and electric guitar, Giannis Economidis - Trumpet, piano, Nikos Pasalidis - Bouzouki, lute, mandolin, acoustic guitar, Vasilis Nisopoulos - Bass and Dinos Hatziordanou - Accordion.