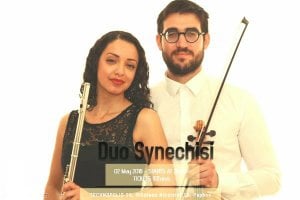 Event Details

The 'Duo Synéchisi' that performed their first concert at Technopolis 20 three years ago, returns to the venue for another concert, on Friday, 14th of September 2018, at 8pm.
The duo, Maria Avraam on flute and Christodoulos Christodoulou on violin, will perform works by Boismortier, Penderecki, Telemann, Hoffmeister and Poulenc.
Entrance: 10 euro
Reservations are necessary at 70002420 (calls only).
A few words about the musicians
Maria Avraam is a flutist and pianist specialized in contemporary classical and experimental music. She studied music at "Marios Tokas" Music Lyceum and European University Cyprus. During and after her studies she participated and performed in piano and flute master-classes in Greece, UK, Germany, Belgium, Cyprus and Netherlands. She has developed a wide repertoire ranging from baroque to contemporary music. Her baroque, classical and romantic music repertoire includes performances with the Cyprus Youth Symphony Orchestra, Cyprus Symphony Orchestra, Athens State Orchestra, National Orchestra of Prague and "Apple Hill" String Quartet in USA, as well as solo and ensemble performances. Her interest in contemporary music gave her the opportunity to perform as a flutist and pianist in various all-contemporary music events including the Artos Contemporary Music Festival, the "7th International Contemporary Music Festival" of Pharos Arts Foundation, the Flevares project, the Avaton Contemporary Music Festival, the "Tampere Biennale Festival" in Finland, the "Piano Street Festival" in the behalf of Pafos 2017 Organization and the CYSO Ensemble in collaboration with the Centre of Cypriot composers, giving Cyprus and world premieres.
Christodoulos Christodoulou was born in 1991. He studied violin with Varvara Merzlova Peneva at Royal Conservatory of Cyprus and with Menelaos Menelaou at European University Cyprus. He graduated with Distinction and many remarkable awards from Nicosia Music School and European University Cyprus. He attend in various concerts, seminars and masterclasses with Gunta Sproge, Keijo Aho and others. He produced a high level repertoire by playing with Cyprus Youth Orchestra and many ensembles in Cyprus and abroad. Nowadays he is a member of Duo Synechisi.