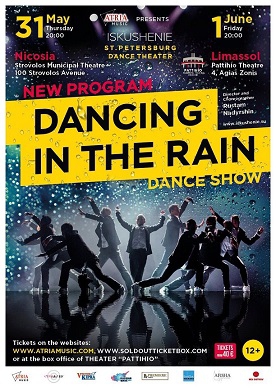 Event Details
Do you want to see the interweaving of good musical compositions and different-sounding dance numbers, which include both classical parts and modern lines with acrobatic stunts? "Show in the rain" is a performance that will entice you into a sea of ​​passions. Energy, drive, humor, romance and positive emotions are provided.
The apotheosis of the show is the flow of water that falls on the dancers! Energy, drive, fantastic light, feelings, passion, declaration of love, means of plasticity of the body - off scale emotions are ensured!
In Cyprus, "show in the rain" will be on May 31 in Nicosia and on June 1 in Limassol.