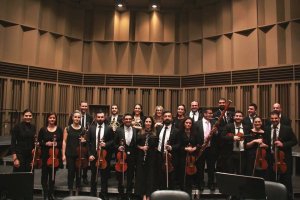 Event Details
Cyprus Chamber Orchestra is back with yet another exciting performance this March.
Once again, Cyprus Chamber Orchestra(CCO) draws the stage lights on itself, presenting its music event of this Spring. During the past months the members of the orchestra have been working on a unique concert through which, they are planning to lead the audience into a musical journey, based on classical pieces such as Haydn's Cello Concerto in C major with Latvian cellist Margarita Balanas, Leopold Mozart's Toy Symphony and Vivaldi's Sinfonia in C major.
The date is set for Friday, 2nd of March at 20:30 at Pallas Theater in Nicosia. The artistic directors and founders of CCO, Natalie Neophytou(principal oboe) and Nihat Agdac(leading violin), along with twenty professional Greek and Turkish Cypriot musicians, are promising an unforgettable musical event. One of the highlights of the event, is that the orchestra has no conductor, which allows the musicians to work as close as possible to each other for the sake of the ensemble, music and their partnership. Like with every other CCO concert, its members are aiming to produce music of the highest level and also to emphasize the fact that music connects people, regardless of ethnic background, color, nationality and social status, through the power of music.
Tickets to the concert are available, on every Wednesday from 16:00 to 18:00 at Palace Theatre ticket offices for the price of 10 euros. For bookings call the Cyprus Chamber Orchestra at 97804219, +905338603715 and 22410181.
For more information on CCO and the concert please visit: www.cychamber.com/ or
www.facebook.com/Cyprus-Chamber-Orchestra. Main sponsor of the event is the British High Commission.
Cyprus Chamber Orchestra is a non-profit organization that brings together Greek and Turkish Cypriot musicians to produce music of the highest level and perform around the island and abroad, promoting peace in Cyprus through the power of the music. Natalie and Nihat developed this idea in London, where they were studying at the prestigious music institutes Royal Academy of Music & Guildhall School of Music and Drama. After receiving the 'Stelios Cyprus Bicommunal Award 2016-2017, Cyprus Chamber Orchestra, the first bi-communal classical music orchestra in Cyprus, has reached a large number of audience members whom fully packed up the Pallas Theatre, Kasteliotissa, Bedesten and Bellapais at their highly successful concerts during the winter, spring and summer. #UnitedByMusic, a joint concert where the CCO artists played side by side with the Berlin Philharmonic Orchestra artists as part of Pafos2017, was watched live by almost 2000 people and was clicked more than 40,000 times online which brought a wide international attention to the Cyprus Chamber Orchestra.