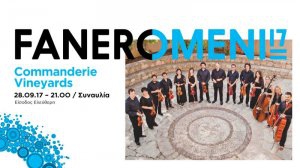 Event Details
As an epilogue to the successful Faneromeni 17 Arts Festival, the Bank of Cyprus Cultural Foundation has opted to hold a unique, one of a kind concert in collaboration with the Embassy of France in Cyprus.
This time, spectators at the old city amphitheatre will enjoy works by monks who had lived in Keryneia during the Middle Ages. Among others, the concert will feature a work inspired from the renowned Torino Codex, the 14th c. musical manuscript written at St Hilarion Monastery. The theme concert of the Commandaria Orchestra, titled "In Commanderie Vineyards" – deriving from the appellation of the last part of Anastasia Guy's work "The Music of the Wine" – aims to redefine classic as a concept and fascinate audiences.
Also performed at the concert will be works of composers who have drawn inspiration from the antiquity, such as Respighi, but also a work by Anastasia Guy that is influenced from the story of the Administrative Unit of the Great Commandery of Cyprus and of the famed wine of the same name: Commandaria. The concert's guest soloist is cellist Εmilia Baranowska with maestro Francis Guy, whose repertoire and research field focuses on Western and Southeastern European and contemporary music creation.
Maestro: Francis Guy
Soloist: Emilia Baranovska (Cello / France)
Mariza Anastasiade (Soprano / Cyprus)
Commandaria Orchestra Cyprus Wine Museum / Commandaria Orchestra
Thursday, 28 September 2017 at 21:00
Bank of Cyprus Cultural Foundation (Courtyard)
86-90 Faneromeni, old Nicosia
Information: 22 128 157 / f: boccf
Free Admission
The nights of the events, the Foundation's museums and exhibitions will remain open until midnight.