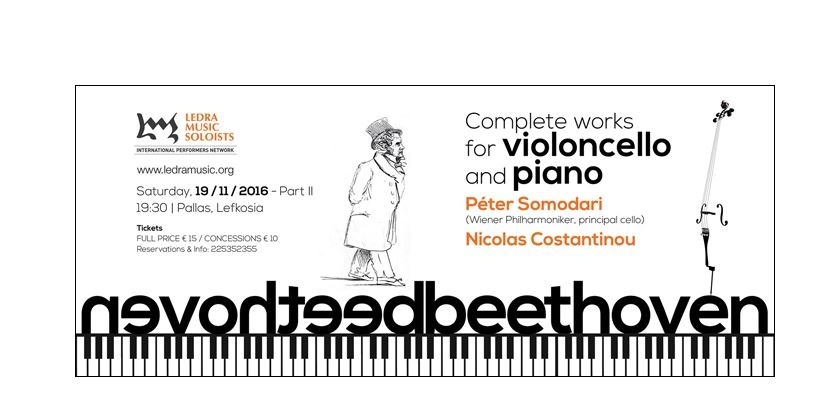 Event Details
LUDWIG VAN BEETHOVEN:
COMPLETE WORKS FOR VIOLONCELLO AND PIANO

Saturday, 31 October 2015, 19:30 - Part I
Pallas Cinema-theatre, Lefkosia


Saturday, 19 / 11 / 2016 - Part II

19:30, Pallas Cinema-theatre, Lefkosia
Péter Somodari | violoncello |
Nicolas Costantinou | piano |

PROGRAMME
Part I
7 Variations on 'Bei Männern, welche Liebe fühlen' from W. A. Mozart's The Magic Flute, WoO 46
Sonata for piano and cello No. 1 in F major, op. 5, 1
12 Variations on "see the conqu'ring here comes" from Handel's Judus Maccabeus, WoO 45
Sonata for piano and cello No. 2 in G minor, op. 5, 2
Part II

12 Variations on "Ein Mädchen oder Weibchen" from W. A. Mozart's The Magic Flute, op. 66
Sonata for piano and cello No. 3 in A major, op. 69
Sonata for piano and cello No. 4 in C major, op. 102, 1
Sonata for piano and cello No. 5 in D major, op. 102, 2

The composition of sonatas for piano and cello was unthinkable before Beethoven; up until then, the cello would mainly provide the bass line. Moreover, this particular combination posed various difficulties as the piano would often outweigh the low notes of the cello and balance between the two instruments is always precarious. Beethoven was the first composer to tackle these challenges (his example was not followed until 1824). The works for piano and cello (three sets variations and five sonatas) are representative of the three periods of Beethoven's artistic creation: the 'classical' (WoO 45, 46, opp. 5, 66), the 'heroic' (op. 69) and the 'late' (op. 102). Inspired by the unmatched capabilities of various renowned cellists and his own abilities as a virtuoso pianist, the sonatas not only represented an example par excellence for the subsequent generation of composers, but at the same time, they pose tremendous challenges for cellists and pianists alike.

TICKETS (at the Door)
Full-price: € 15
Concessions: €10 (LMS members, pensioners, full-time students, soldiers)
Children up to 15 years old FREE ENTRANCE

RESERVATIONS & INFO
Tel: 22352355
Email: info@ledramusic.org
Web: www.ledramusic.org

BIOGRAPHIES

Péter Somodari

Péter Somodari was born 1977 in Veszprem, Hungary. He began playing the cello at the age of three. Between 1997 and 2006 he studied at the music academies of Budapest and Saarbrücken, receiving important impulses from Làszlo Mezö, Miklos Perényi, Gustav Rivinius and György Kurtàg. He holds numerous awards, among which the first prize at the 2005 International Music Competition in Marktneukirchen. He has appeared in performance with such renowned musicians as Christian Tetzlaff, Leonidas Kavakos, Patricia Kopatschinskaja, Tabea Zimmermann, Boris Pergamenschikov, Truls Mork, Miklos Perenyi, Alexej Lubimov, György Kurtàg, Jonatan Gilad and Marta Gulyas. From 1997 to 2001 Péter Somodari collaborated with the Budapest Strings, both as their section's cellist as well as appearing as a soloist. In the period to follow he was member of the Keller Quartet and member of the Hungarian State Opera. From 2004 he had served as the solo cellist of the Lucerne Symphony Orchestra, and since September 2012 he is the solo cellist of the Vienna State Opera House and the Vienna Philharmonic Orchestra.

Nicolas Costantinou
Dr. Nicolas Costantinou has given numerous concerts in Austria, Cyprus, Hungary, Germany, Greece, Finland, France, Portugal, Turkey, Switzerland, the UK and the USA and regularly appears in prestigious halls such as Wigmore Hall, the Brahms Saal of the Musikverein in Vienna, the Beethoven-Haus in Bonn, and the grand Hall of the Franz Liszt Academy of Music in Budapest. He is regularly invited to perform at international festivals around Europe such as the Kuhmo Chamber Music Festival, the Oulunsalo Soi Music Festival (Finland), the Gödöllő Chamber Music Festival (Hungary), the Ledra Music Soloists International Chamber Music Festival and the Kypria Festival (Cyprus). His debut in London's prestigious Wigmore Hall was received with favourable reviews. He has performed with the Philharmonia Orchestra, the Russian Chamber Philharmonic St. Petersburg, the Budapest Concert Orchestra, the Failoni Chamber Orchestra, and the Cyprus Symphony Orchestra, with maestros such as Konrad von Abel, Juri Gilbo, Esa Heikkilä, Notis Georgiou, Spiros Pisinos, Maciej Zoltowski and Ayis Ioannides. In the field of chamber music, he has performed with Gustav Rivinius, Erkki Rautio, David Cohen, Péter Somodari, Vilmos Szabadi, Tytus Miecznikowski, Gábor Varga, Francesco Quaranta, Wolfgang Schroeder, Margarita Elia, Kyros Patsalides, Chloë Hanslip, Kazuhiro Tagaki, and the Meta4 and Akadémia String quartets. He regularly performs works by Cypriot composers in Cyprus and abroad including a number of world premieres. Dr Costantinou has recently performed for the first time in Cyprus Beethoven's complete works for piano and violin with violinist Nikos Pittas.
Nicolas Costantinou graduated from the Greek Hellenic Academy of Music, the Ferenc Liszt Academy of Music in Szeged, the Ferenc Liszt University of Music in Budapest summa cum laude and holds a Master of Music in Performance from the U.S. Cleveland Institute of Music. Recently, he has been awarded a doctorate of philosophy (PhD) from London's Royal College of Music under the supervision of Prof. Paul Banks, Dr. Julian Jacobson and Dr. Jane Roper. His thesis is entitled The Chamber Music of Ernő Dohnányi; Tradition, Innovation and 'Hungarianness'. He has also studied with Márta Gulyás, Dr. Daniel Shapiro, Sándor Falvai, Ferenc Kerek, Tania Economou and Wanda Economou-Constantinou and he has participated in master classes held by acknowledged pianists such as Dmitri Bashkirov, Nicolas Economou, Vadim Suchanov and Ferenc Rádos.