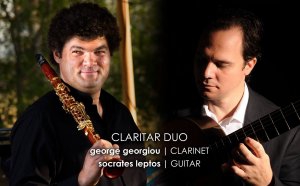 Event Details
The 'Claritar Duo' invites you to the concert "Argentinean Tribute" at Technopolis 20, on Sunday, 28th of January at 6pm. George Georgiou (clarinet) and Socrates Leptos (guitar), present the first concert of the George Georgiou & Friends concert series and it is dedicated to music by Argentinean composers.
George Georgiou & Friends is a new concert series under the artistic direction of clarinettist George Georgiou. The series aim to provide high level concerts as well as specific masterclasses in our instruments featured at the series. The series is based at Technopolis20 & lasts from January until May.
Entrance: €10
Reservations at 70002420 (calls only).
Programme
Astor Piazzolla | Histoire du Tango
Astor Piazzolla | Tango Etude Nr. 3
Diego Maximo Pujol | Preludio Triston
Diego Maximo Pujol | Suite Buenos Aires
A few words about the musicians
George Georgiou, clarinet: Hailed for his energetic and inspirational performances, the Cypriot clarinettist George Georgiou enjoys a career as a classical and contemporary clarinettist. He appeared in many solo concerts and recitals in Europe, Middle East and USA. He collaborated with some prominent musicians such as the legendary cellist Rohan de Saram, the Apple Hill String Quartet, the Chilingirian String Quartet, the violinist Movses Pogossian and he appeared as a soloist with the Commandaria Orchestra and Moscow Virtuosi. In his research for new repertoire, George started commissioning works for clarinet and so far he collaborated with the most dominant composers from Cyprus. He premiered several works featuring the clarinet with most of them being dedicated to him. He is a member of Lyrical Noise Ensemble, Evohe Wind Quintet, Chronos Contemporary Music Ensemble and Claritar Duo as well as musician in residence at the Avaton Contemporary Music Festival (Cyprus). He holds the position of clarinet professor at the University of Nicosia. He is the artistic director of Music at the Museum Concert Series and the general director of CultureTones Organisation, a not for profit cultural organization based in Cyprus. George is a graduate from City University, London, where he studied clarinet with Julian Farrell and Joy Farel at the Guildhall School of Music and Drama. He is also a MBA graduate from the Neapolis University Paphos, Cyprus and a member of Mensa Cyprus. His busy profile gained him an international recognition and he became a Fratelli Patricola Clarinet Artist, a Silverstein Ligature Artist and a Marca Reeds Artist. He records for Hook Records.
Socrates Leptos, guitar: he began his music studies at the Contemporary Conservatory of Cyprus where he was awarded the Guitar Diploma. He continued his studies at the New England Conservatory in Boston where he studied with Eliot Fisk and David Leisner. In 2000 he was awarded a Fulbright scholarship to study at Yale University under Ben Verdery. In 2009 he was awarded the Doctor of Musical Arts Degree from the Peabody Institute. During his studies, Mr. Leptos won three awards and gave various performances in Boston, New York, Chicago, Baltimore, Brookline, and New Haven. He participated in masterclasses with Manuel Barrueco, Sharon Isbin, Jorge Morel, Paul O'dette, David Tannenbaum, Gordon Crosskey, and John Duarte. Mr. Leptos has recorded music for radio and television. He has participated in various classical and modern music ensembles and has collaborated with local and foreign artists. He has contributed to various recordings, both as a guitarist and a composer. Mr. Leptos has taught guitar and theory at both preparatory and university levels. His students have been successful in competitions and have contributed greatly to the Cyprus music scene.