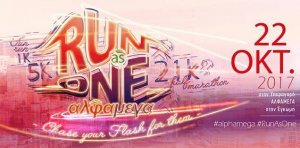 Event Details
For the second year, ALPHAMEGA Hypermarkets organize the Run As One race, on Sunday, 22 October 2017. The race is part of the Corporate Social Responsibility programme, titled "Child, Nutrition and Health". This year's event will be updated to include a Half-marathon, and a Corporate 5km race.
There will also be the Personal 5km race and the 1km race for children and grownups alike. The net profits from the event will be made available to the "Child, Nutrition and Health" Corporate Social Responsibility Programme of the Hypermarkets, through which children between 9-12 years old get to have a personalized healthy, balanced diet programme. The programme runs in collaboration with the Cyprus Dietetic & Nutrition Association.
Event Programme
8:30am: Start of Half-Marathon
11:00am: Start of Personal & Corporate 5km races
11:30am: Start of 1km race
12:00am: After Party
Entertainment
There will be parallel activities with music, games, and food for children and adults during all races. The highlight of these events will be after all races and the award ceremony finish, when the after party begins.
The presenter of this year's Run As One will be Akis Petretzikis, famous chef, and ALPHAMEGA Hypermarkets brand ambassador, while well-known radio producers and DJs will give beat to the event.
For more information, call 22793728 and 22442878.