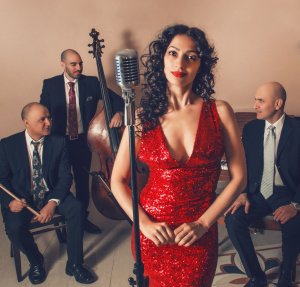 Event Details
A musical journey in times of old, long gone era of classic swing, on Monday, 23rd of July 2018, at 8:30pm, with the 'Mood Indigo' that have returned from their concerts in Germany at the Dusseldorf Jazz Rally!
Join one of the most prominently scheduled jazz group in Cyprus and experience the unique arrangements and songs that will perform at Technopolis 20 garden, under the starts. Enjoy beautiful songs composed by the likes of Cole Porter, Hoagy Carmichael, Duke Ellington, and songs sung by Billie Holiday, Anita O'day, Sarah Vaughan and others.
Musicians performing: Irene Day (voice), Greg Makamian (double bass), Marios Toumbas (piano), Ioannis Vafeas (drums).
Entrance: 10 euro
Reservations are necessary at 70002420 (calls only).
Sponsor: Cyprus Tourism Organisation
A few words about the band and the musicians
Mood Indigo was created in 2013 by the Canadian-Cypriot singer Irene Day, and the Armenian-Cypriot bass player Greg Makamian. The two musicians, equally dedicated to this music, have performed at festivals and clubs around the world, including the famous Smalls Jazz club in NYC. They have also performed with Jazz master Freddie Redd, and world class musicians such as, Chris Byars, Zaid Nasser, Pasquale Grasso, Pete & Will Anderson. The musicians of Mood Indigo have performed at various international festivals and concerts throughout the years of their musical careers. They have made appearances in the USA, Canada, UK, Germany, Greece, Poland, Italy, Spain and Holland to name a few. Together, they represent a band that has an original Jazz sound. They have performed with internationally known musicians such as: Chris Byars, Zaid Nasser, Vahag Hayrapetyan, Pasquale Grasso. They have also been around and learned from iconic Jazz giants like Barry Harris, Freddie Redd, Annie Ross.
Irene Day (voice): Born and raised in Canada, Irene Athanasiou started cultivating her vocal skills at an early age with Shania Twain's vocal coach - Ian Garratt. She later moved to Europe where she got her performance degree in Classical music and went on to become the Jazz chanteuse & band leader of the most popular band in Cyprus - "Mood Indigo", where she performed with the island's internationally known musicians, and sang at some of the most important events. Mood Indigo performed for the Cypriot president Nicos Anastasiades on numerous occasions and has also performed at numerous festivals (diversity festival, pop up festival, and cultural festival etc). Irene has been featured in various magazines and TV over the years. Since the beginning of her career, Irene has been working as a songwriter/lyricist. In 2009 she won a poetry competition and her work was featured in the book "Cadences", and was asked to recite her poems at the European University of Cyprus. Irene has made appearances in Toronto, and New York, where she performed at Smalls jazz club, and studied with vocal legend Annie Ross. She has performed with veteran pianist and composer Freddie Redd as well as great NYC musicians, such as Ari Roland, Stefano Doglioni, Chris Byars and Pasquale Grasso and others.
Greg Makamian (double bass): a double bassist, and bandleader based in Cyprus. Greg has had the opportunity to perform next to the legendary Freddie Redd at Smalls in NYC. He has also performed with great musicians such as: Chris Byars, Charis Ioannou, Pasquale Grasso, Zaid Nasser, Pete & Will Anderson, Keith Balla, Phil Stewart, Ofer Landsberg, Stefano Doglioni, John Mosca, Irene Day, Marios Toumbas, Ioannis Vafeas, Dimitris Miaris, Marios Spyrou and others. In 2017, Greg recorded an album with the Ioannou Vafeas quartet, performing compositions by Chris Byars. The quartet recently presented the album at Syro's Jazz Festival in Greece, and at Axiothea's Mansion in Cyprus. The quartet also performed at the Shoe Factory (Pharos Arts Foundation) in mid-2017, where Greg received exposure by Armenian TV channel "SHANT TV". In 2016, Greg performed with the Cyprus Symphony Orchestra & the Charis Ioannou group, presenting the music of Charlie Parker – Bird with Strings. In 2015 he was part of BopCy, a quartet with all Cypriot musicians and won the 2nd place in the first Greek Jazz Competition held in Athens, and appeared in Syros as part of the International Jazz Day 2015. He also performed at the 2nd Cyprus Jazz & World Music Showcase held by Rialto Theatre, presenting his latest compositions. In Summer 2014, Greg taught as Assistant Jazz Faculty at the Cyprus Academy of Music Summer School and Festival (CAMSSF). In the same year, Greg made an appearance at the 1st Cyprus World & Jazz Music Showcase held by Rialto Theatre, where he performed his original compositions. As the bandleader of Mood Indigo, Greg has organized public concerts, club engagements and music for private homes all around Cyprus, presenting the finest Cypriot Jazz musicians. Over the years, Greg has taken part in the Jazz Futures program let by the greats Ari Roland & Chris Byars, and the Jazz seminars of master Barry Harris. Greg holds a BA in Jazz performance where he studied under the great saxophonist Charis Ioannou, and has studied under bassists Ari Roland & Nicos Ioannou. Over the years he has taken lessons with many bass players that he looks up to. To name a few; Neal Miner, David Wong, John Goldsby. Greg works frequently with Charis Ioannou and Chris Byars, and has performed at Smalls Jazz Club (NY), Fat Cat (NY), Garage (NY), Apollon Theater (Syros, GR), Pomos Jazz festival (CY), Rialto Theatre (CY), and the Ancient Amphitheater at Kurion (CY).
Marios Toumbas (piano): Jazz pianist Marios Toumbas has a Bachelor of Music, Cum Laude, in Music Synthesis (Berklee College of Music, Boston, MA) and a Master of Music with Honors in Jazz Studies (New England Conservatory of Music, Boston, MA). He was a student of international renowned jazz educator Charlie Banacos and the well-known pianist Danilo Perez. He has performed all over the world with famous jazz musicians such as, bassist Anthony Jackson (creator of the 6-string el.Bass), and saxophonist Tony Lakatos and guitarists Jeff Richman and Brett Garsed. He has also performed at international Jazz festivals such as the Montreal Jazz Festival in Canada, the Krakow Jazz Festival in Poland and the Blues North City festival in Serbia. He has played concerts at the Royal Festival Hall in London and Sun City Music Hall in Johannesburg South Africa. He has been an instructor of Jazz Music at the European University Cyprus 2009.
Ioannis Vafeas (drums): He was born in Cyprus in 1970 and currently leaves in Nicosia. He performs regularly in festivals and Concert Halls in his homeland all over Europe. He has numerous collaborations in cd's, recordings and theatre productions. Since 2009 he is a member of the faculty in the Department of Music in the University of Nicosia
He studied Jazz at the Berklee College of Music in Boston, Massachusetts. After his graduation he enrolled at the Master's program of the Boston's Conservatory from where he graduated in 1998 with a Master's Degree in Jazz Studies. His Master's thesis was titled "Rhythm, History, Development and Influence on the twentieth Century Music".
Ioannis attended festivals and Venues in Poland, England, Lebanon, Kuwait, Italy, the U.S., Greece and Serbia and shared the stage with great artists the Cyprus Symphony Orchestra, the Moscow Symphony Orchestra and others. His teaching experience started back in 1998 with private drum lessons at the Lynn College of Music. Since 2002 Ioannis is teaching the music idiom in public schools. He is also a member of the faculty of the University of Nicosia since 2009. His credits also include drum seminars on soiling and brush playing in various Universities and Music Schools. Ioannis is endorsing Zyldjian Cymbals since 2009.