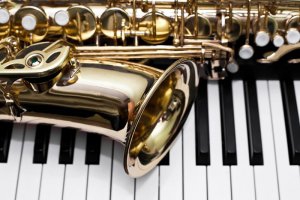 Event Details
Long-time friends and collaborators the saxophonist Giorgos Krasidis and the pianist Giorgos Morphitis are returning to Technopolis 20 for a Magical Jazz Christmas Concert on Saturday, 23rd of December 2017, at 8pm. Enjoy the creativity of the two jazz masters in a spiritual and soulful Christmas delight.
Entrance: €10
Reservations necessary at 70002420 (calls only).
A few words about the musicians
Giorgos Krasidis (born April 10, 1970 in Limassol, Cyprus) is a Jazz saxophonist, clarinettist, composer, conductor and educator. Krasidis studied at Berklee college of Music, (tenor saxophone jazz performance) and at Indiana University of Pennsylvania, (Classical Saxophone Performance) and graduated Summa cum Laude. Krasidis is among the most potent and influential jazz instrumentalists in the island of Cyprus with an active career for almost three decades. He is the founder and director of Jazzologia Cyprus Big Band and teaches the jazz idiom at the ARTE Music Academy in Nicosia, Cyprus. He has performed and recorded several albums as a soloist and sideman. Krasidis shared the stage both as a performer and educator with jazz leading figures, including Dr Gene Aitken, Dave Glenn, Damian Erskine, Denny J. Eupraset, J. Kyle Gregory, Alex Sipiagin and many others.
Giorgos Morfitis was born 1981 in Limassol Cyprus. At the age of 6 he started his classical piano and theory music training. 2001 he studied jazz music At Nakas music school Athens Greece. 2002 he studied at I.S.A conservatory in Havana Cuba were he focused on classical composition, arranging and Jazz/latin performance. 2004 he studied at Codarts Rotterdam conservatory in The Netherlands were he obtained a B.A and a M.A in Jazz/Latin piano performance. 2012 he moved to Madrid Spain where he taught as a music professor at San Gredos College and Katarina Gurska conservatory in the modern music department. Through his carrier Morfitis played in many prestigious festivals and venues all over Europe such as: North Sea jazz festival round town, Eunic Jazz festival Berlin, Technopolis Jazz Festival Athens, Luxemburg Jazz & World showcase, Lantaren venster Showcase Rotterdam, personal concert in Doelen theater Rotterdam, Rialto Jazz & World showcase Limassol, Madrid jazz festival, Μadrid national Tv etc. He is currently residing in Cyprus teaching the jazz idiom at the ARTE Music Academy in Nicosia, Cyprus. Also he is teaching privately and performing all over the island and abroad with different formats including his own original projects.